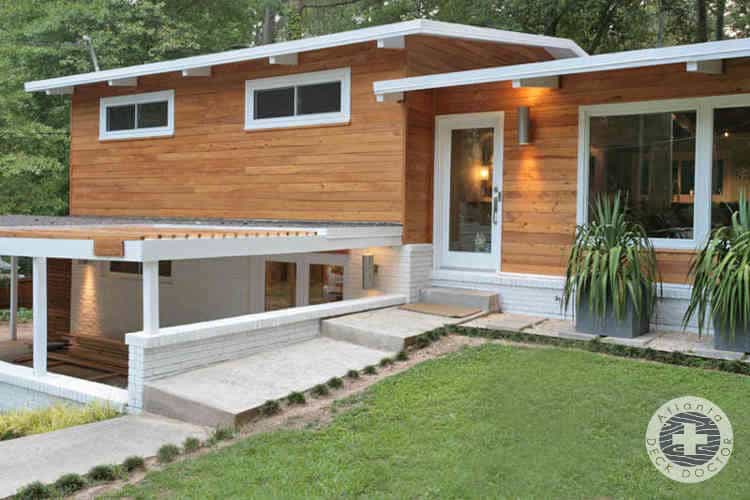 Exterior Home Wood Restoration is a skill held but by a few craftsmen across the country. It is a skill not many homeowners know even exists. When their homes wooden exteriors start to degrade they unfortunately turn to contractors who have limited knowledge, skills in the home wood restoration realm.
Since 1998 Atlanta Deck Doctor has shared that lost exterior home wood restoration art-form with their many customers and restored, beautified many of Atlanta's Homes. Our highly skilled craftsmen have the know-how to refurbish all home surfaces such as columns, rafter tails, gable brackets, front porch columns as well as miscellaneous siding.
What is exterior wood home restoration?
Exterior wood home restoration put simply is renewing your home's wooden surfaces, properly removing failing finishes whether stains, sealers, or varnishes. Once old finishes have been removed we thoroughly sand, and prep the wood, followed by conditioning the wood, rejuvenating the wood with wood neutralizers and brighteners. Once the wood is looking better than new, our highly skilled wood craftsmen apply surface-correct, and specific sealers, protectants that not only revive, and beautify the appearance of all exterior home surfaces, but protect them long term as well.
Exterior Home Wood Restoration Process
The process of restoring your home's exterior wood surfaces relies on many variables such as – What species of wood you have, whether it it is vertically, or horizontally oriented, the type of existing coating, as well as surroundings (plants, hardscape, etc). With that information in mind, we lay down a plan in order to safely, efficiently clean, remove, restore all surfaces exposing the beautiful wood underneath – We use time-proven techniques that include powerful, yet safe cleaning detergents, thorough sanding, using wood brightening neutralizers that lay the perfect groundwork for our carefully curated wood species specific stains, sealers, and waterproofers.
Selection of finishes relies on wood surface type – Brazilian woods (whether siding, decks, fences) require a thorough oiling using furniture grade finishing techniques, while front doors, have a wider range of products that can be used such as varnishes, as well as tung oils, marine varnishes. The methodical planning of all facets of an exterior home restoration (sun exposure, surroundings) is paramount for a perfect long-lasting finish – Planning with our customers, going over options, colors, tones, textures is a great method of getting the appearance, and look to be as close to what our clients envision as possible.
Home Exterior Wood Restoration Materials
We use professional grade wood restoration products from professional sources- We never experiment with unproven chemicals, nor do we mix our own sealers, stains, varnishes – contractors that mix their own stains & sealers effectively are 'locking their customers in' as they don't divulge the specific formula, nor can a customer acquire the specific color on their own. Everything we use are the highest performing products that are time proven to not only protect your home's exterior surfaces, but also to be a breeze to maintain when the time comes. Using the highest quality materials is just as important as the labor involved – We believe we use the highest quality products available in the wood care industry. That said, if you have a product in mind which isn't in our regular rotation which happens to be of high quality we would gladly use it to achieve the look you desire. We know HOUZZ is a great source of ideas, so we are all for achieving a specific look, and want our customers to love the look of their home's exterior.
Atlanta Deck Doctor has restored many atlanta home's exterior wooden surfaces- we would love to discuss your home wood restoration project- you can reach us by phone by calling, or texting anytime at 404.992.4870, or by clicking one of the buttons below – We respond to all inquiries within the hour if not sooner.