Our Fence Restoration Services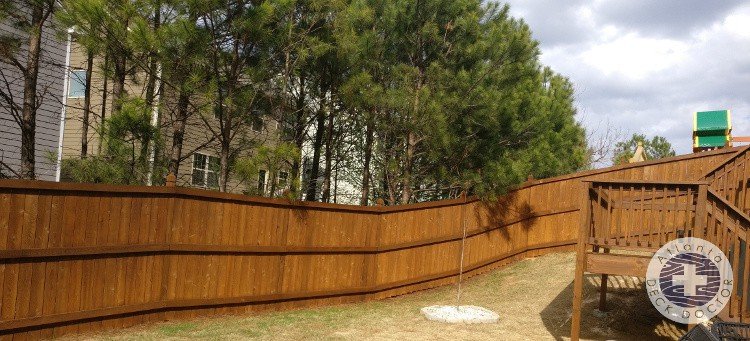 Fences serve many purposes: They keep our pets inside and safe, they keep unwanted people out, and most importantly fences add privacy and an appealing architectural detail to one's property. We offer our fence restoration services to protect, and preserve all aspects of your Atlanta home's fence.
We have since 1998 specialized in all levels of fence care. We know there are many contractors that offer a wider range of services than we do – but are confident that once our prospective customers do their due diligence, they will recognize the advantages of hiring an exterior fence care specialist over a jack of all trades company.
Our fence care services include:
Fences are more resilient than decks due to their smaller water collection footprint when compared to decks. Fences can still get pretty dingy from UV damage, mold, mildew. To keep fences looking their best year after year we offer our fence restoration services. We know how stressful it is to find a company that will not only do what they say, but do it in a competent fashion. We set ourselves apart from the many handymen, painters, and pressure washing companies by specializing in exterior wood care only – period. This is what sets up apart from the vast field of do it alls, that never master any one skill.
What Is Fence Restoration?
Fence restoration involves taking a very neglected fence (whether stained, painted, or untreated wood that's just gotten dirty, and grey) and rejuvenating, refurbishing, and refinishing it making it look as good as new. Fence restoration isn't an easy task, as many fences contain intricate pockets as is the case on shadowbox fences, or lattice detailing. Fences also are made of delicate wood surfaces like Cedar that need special care when cleaning, and treating. We use methods handed down from wood restoration craftsmen, using their time proven methods to effectively renew the appearance of all types of wood fences, no matter their condition, or age. Our aim is to transform unsightly fences into what they were intended to be: Beautiful privacy screening that not only improve your home's curb appeal, but seamlessly, beautifully blend into your property's natural surroundings.
The process is straightforward – We first determine whether the fence is new, has a previous finish and put forth a plan of action. We start off with a thorough cleaning. If the fence has never been stained and is dirty we use powerful, plant safe fence cleaners that remove years of oxidation, graying, mold, mildew revealing the wood grain again, and inherent beauty of your fence! We follow the thorough cleaning with a brightener and neutralizer that accomplishes three things:
Wood brightener neutralizes the alkaline, and caustic fence cleaners used, effectively stopping them from working, and attacking the new fence finish.
Fence wood brighteners naturally lighten the wood's appearance. Caustic & alkaline deck cleaners will darken the wood: brighteners/neutralizers revive the appearance of the wood.
Neutralizing and brightening will aid in stain absorption by opening the pores of the wood. This is important for a longer lasting finish as well as a uniform appearance.
With the wood pores open, and the surfaces neutralized the wood will absorb the maximum amount of stain and sealer possible. That's how we restore a fence that has never been stained before but was dirty.
For fences that were stained before we ask our customers if they have a record of previous product. If they do, we gently clean all fence surfaces, ensuring to remove all mold, mildew, and contaminants. Allow the fence to dry thoroughly, and reapply said product. If they don't have a record we gently remove the previous product, neutralize, brighten, finishing up with a thorough staining and sealing.
Our fence restoration method lays the groundwork for a simple maintenance program that can be followed easily, and will be cost effective long term.
New Fence Staining And Sealing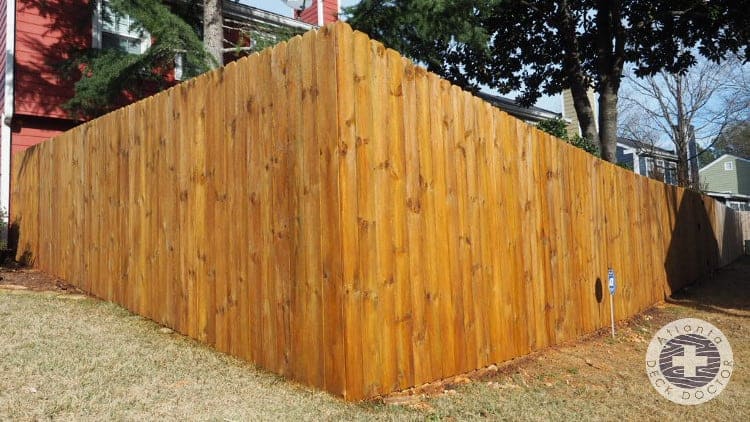 Pressure treated pine fences need at least 3 months to dry. Wood, especially from big box stores have a very high moisture content. This high moisture content will not allow oil based  stain and sealers to penetrate as intended by the stain's manufacturer (oil and water don't mix). If you use water based stains, sealers paints it is also important to wait as they will trap moisture and you will have mold resurfacing regularly. So, if your pressure treated pine fence is new, you should wait at least 3 months before attempting a stain and seal. If your fence is Cedar you can stain right away so long as you remove all mill glaze prior to staining and sealing.
Whomever tells you that you can stain a brand new pressure treated fence with an oil based stain right away is either misinformed or just wants your money and doesn't care about doing things the right way. We will never push a job for the sole purpose of making money – many will, we wont.ever.period… we will always tell you the truth whether we make money from it or not.
The only times you can use an oil-based fence stain on a new pressure treated fence right away is if it is built using KDAT lumber, and not many people build fences from KDAT Lumber as it is prohibitively expensive. Cedar fences can be stained right away so long as you remove all mill glaze prior to staining.
New fences CAN be stained with certain water based stains – these stains offer same day pressure washing staining (stains can be applied to a wet deck) we stay away from gimmicky products such as these as even though the allow the wood to breathe, their acryllic makeup will make it impossible to remove in the future. We've encountered these products after they fail, and the only real remedy is to paint over them. Not goood.
For newer (seasoned)  fences we offer a tailored fence cleaning and sealing service. We thoroughly clean all fencing including fence panels, posts, gates, etc removing all mildew, mold soiling , follow with a thorough brightener and neutralizer – this will ensure maximum stain absorption. Once dry we stain and seal the fence thoroughly working in the stain with stain pads, brushes.
Fence Cleaning And Painting
Applying solid color fence stains is an easy way to immediately improve the appearance of very weathered fencing. Whether cedar, pine a solid stain paint job will ensure an even appearance, and if the right color is selected can vastly improve the way the fence blends into the property, and enhances it at the same time.
We offer the same level of craftsmanship with our fence cleaning and painting services. We thoroughly clean all fencing, neutralize and brighten to open wood pores. Once wood pores are open and ready to take the solid fence stain we apply two coats of fence stain respecting manufacturer interval times between coats. We don't cut corners when no one is looking, we paint each fence as if it were our own.
Fence Restoration Best Practices
We execute our time-proven fence restoration method which we've used when cleaning, staining, sealing fences since 1998. We believe this is another way in which we set ourselves apart from the competition.
Thorough walk-through with client. We always do a complete walk-through of your fence looking for issues like wood fence panel rot, loose fence gates, etc. Here we go over our process, and take note of many variables like proximity to shrubs, trees,make recommendations, and provide you with a quote in writing.
Carpentry services if needed- we replace fence panels, fix sagging gates, etc. This is done before cleaning and brightening of fence.
Cleaning and brightening of all fence surfaces – We thoroughly clean all fence surfaces removing all contaminants, mildew, mold, moss, fungus. We follow our thorough cleaning (of bare wood) with a brightener and neutralizer.
Allow proper dry time- We never rush our work – we allow proper dry time so as to not trap moisture under our stains, sealers, paints. Patience is key.
Execute deck staining, sealing, painting – Once fence has thoroughly dried we apply the finish coating – oil stains, sealers, deck paints, solid stains.
Final walk-through – We always (as long as our customer's schedule allows) walk through every fence job to their total satisfaction. We never ask for a check without walking the job with you and ensuring you are happy with every facet of our services.
Fence restoration whether cleaning, staining, sealing, painting is a labor of love for us, we love happy customers, and love seeing the happiness a fence transformation invokes.
Our Many Fence Restoration, Cleaning, Staining, Sealing Projects Near You
We are like proud parents, and our many fence restoration products are our babies. We love to show off the work we do because we're proud of a job well done. But we don't pat ourselves on the back here – we have been 5 star rated on Kudzu, Houzz, Nextdoor, and Google. More than likely we've stained, sealed and restored one of your neighbor's fence over the years! Here are a few images from the many years of restoring many fences in Metro Atlanta.
Contact Atlanta's Fence Restoration Specialist
Whether you had your fence just built, wanting to refurbish an older fence we'd love to hear from you. We are available anytime day, night, weekends, and holidays for you. You can reach us by phone, or text  at 404.992.4870 or by clicking on the button below. We can get you a fast free estimate, and have you on our schedule in no time. So Give us a shout. Thank you,
Atlanta Deck Doctor services many local Metro Atlanta Neighborhood and are sure we service your city and neighborhood- a brief listing of our service area:
Buckhead, GA
Sandy Springs, GA
Virginia Highlands
Lilburn
Duluth
Suwanee
Johns Creek
And many more Greater Atlanta cities, and neighborhoods. To view our entire service area please visit our service area page