Two Tone Decks
Two tone decks are not new in Atlanta, Ga. Atlanta Deck Doctor began finishing two-tone decks for custom home builders in the mid 90's during the pre/post Atlanta Olympic construction boom. Two tone decks, if finished correctly can add an element of style to an exterior space. Atlanta, being the corporate hub that it is, has a constant influx of new home-owners from all points, many of these homeowners are new to deck ownership. We aim for this page to serve as an educational tool for those seeking to learn more regarding two tone decks. We will categorize our page by listing what is a two tone deck, why finish your deck in a two toned deck style, when to, as well as how. We will also include tips, a look-book, inspirational images of two toned decks we've finished and refinished over the years. We've added a table of contents above to aid in navigating this page.
What Is A Two Tone Deck?
As the name suggests, a two toned deck has its railing system (posts, handrail, spindles, lattice, facia, and all vertical surfaces) painted with an opaque stain. Horizontal surfaces such as: deck floor, stair steps (walking surfaces) are stained and sealed with a penetrating oil based toner, semi-transparent, or semi-solid stain.
Why A Two Tone Deck?
Unlike painted decks where everything is opaque, or with stained and sealed decks where everything is stained with a translucent stain two tone decks combine both into a cohesive, stylish result. So why a two tone deck?
Custom Look: Two tone decks give your deck a splash of style. Whether tying the vertical deck surfaces to your home's trim color, or you'd like to go bold with vibrant colors: There are many possibilities.
Subdued Look: Matching color between painted vertical surfaces and stained horizontal surfaces. Cabot offers both paints and stains in the exact same color so you can paint your rails the exact same color as the floor.
Durability, ease of maintenance: By painting vertical surfaces, and staining horizontal surfaces you get the best of both worlds: The longevity of a solid stain without the risk of peeling. Ease of maintenance on horizontal surfaces without the risk of peeling.
Showcase your deck floor: Whether pine, cedar – with two tone decks you can showcase your deck floor's inherent woodgrain pattern. You can give your deck a fine hardwood appearance by staining & sealing with an oak, redwood, chestnut or even mahogany stain. With a two tone deck you can let your deck floor be the centerpiece of your outdoor living spaces, and have the rails disappear.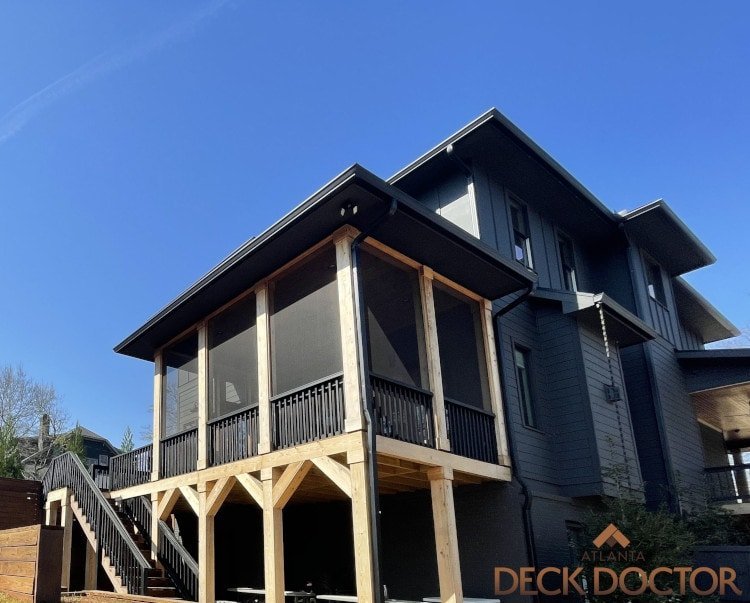 How To Paint & Stain A Two Tone Deck?
The process is similar to our deck painting combined with deck staining. It is definitely more labor intensive as the deck has to be cut-in twice. Once you factor in the long term savings in upkeep costs we believe to be worth it. What is the process of finishing a two toned deck?
Prep: Thorough cleaning of vertical, horizontal surfaces. Buffing, sanding.
Ensure weather is clear: Check weather forecast for rain, pollen, inclement weather.
Start at the top: Once all deck surfaces are fully-dry- we paint all vertical surfaces first, ensure no deck paint gets on floor, walking surfaces. Special care is taken to cut-in, mask off. It is important not to get any paint on floors, stairs as they will show through on final transparent stain application. It is labor intensive, time consuming, but worth it.
Finish at the bottom: Stain all horizontal surfaces. As mentioned previously- we use penetrating oil based stains on all horizontal surfaces. Whether you select a toner, semi transparent, or semi solid: We apply these products by hand, using stain pads, brushes. We ensure all horizontal surfaces are saturated with these oils, and all excess is wiped off.
Do not over-apply stain: Over-application of stain is a cardinal sin performed by many painters (with good intentions). As the saying goes: 'the road to hell is….' well, you know. The point is, apply as much stain as the wood will take, remove excess.
Following these best practice methods provides flawless results. We've been finishing two toned decks since the mid 90's in this fashion with dependable results.
Even though finishing or refinishing a two tone deck is beneficial we would like to clarify: If you live in an HOA community: Make sure your HOA allows two toned decks. Over the years we've found some do, some don't. Issue is, if, for some reason your HOA does not approve: they'll expect/demand you remove the paint which will be impossible. This leads to our second point: Painting vertical surfaces is permanent. Please be 100 percent sure before painting spindles, posts, lattice. Once these surfaces are painted…. paint will be impossible to remove.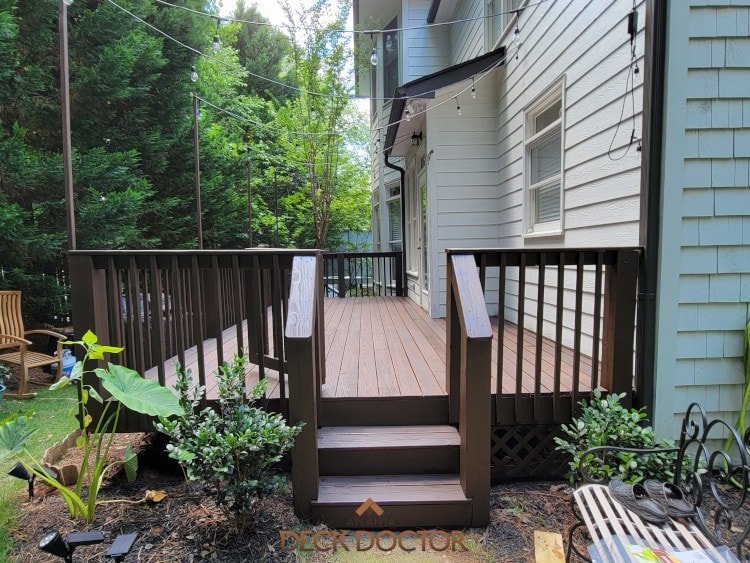 Care Of A Two Tone Deck
Even though two toned decks require less frequent maintenance, it does not mean they're maintenance-free. Please ensure you follow these maintenance tips to preserve and protect your investment.
Decks under dense tree canopies: Make sure you clean the space between boards regularly. Don't allow leaf debris, pine needles collect between boards. Deck will remain wet for extended periods of time inviting mildew, fungal growth (rot).
Clean painted rail system at least once a year. Make sure your'e gentle when cleaning painted rails. A light chemical bath is all it needs. You can use biodegradable cleaners like simple green, oxy clean with warm water. These will remove mold, surface dirt without harming the painted surfaces.
Lightly clean stained horizontal surfaces. Make sure you are gentle with these surfaces as the stain can be pressure washed off with enough pressure. You should clean your deck at least once a year, preferably twice.
Don't place planters directly on deck floor: Floor will remain wet inviting fungal growth (rot).
Don't place jute rugs, or organic fiber rugs on deck as they will remain wet for long periods of time inviting rot.
These tips should help extend the life of your two tone deck.
For 25+ years our main goal at Atlanta deck doctor has been to provide our customers with decks that are simple to maintain, decks that will never peel, blister, be a nightmare to perform maintenance on. Two tone decks provide style, substance, and value. We love to transform customers' decks into beautiful spaces that they are proud to entertain in, spaces that they look forward to having a cup of morning coffee in, spend family time with kids, pets, neighbors.
Two Tone Deck Color Combinations
The possibilities are endless, below are but a few of the options with image samples.
White/Off-White Verticals Translucent Horizontals
The most popular, and more classic style is by painting the vertical surfaces of a two tone deck in a similar tone as the trim of the house (normally white, or off-white) then staining the deck floor, stairs with a somewhat transparent stain. Take a look at a couple examples below: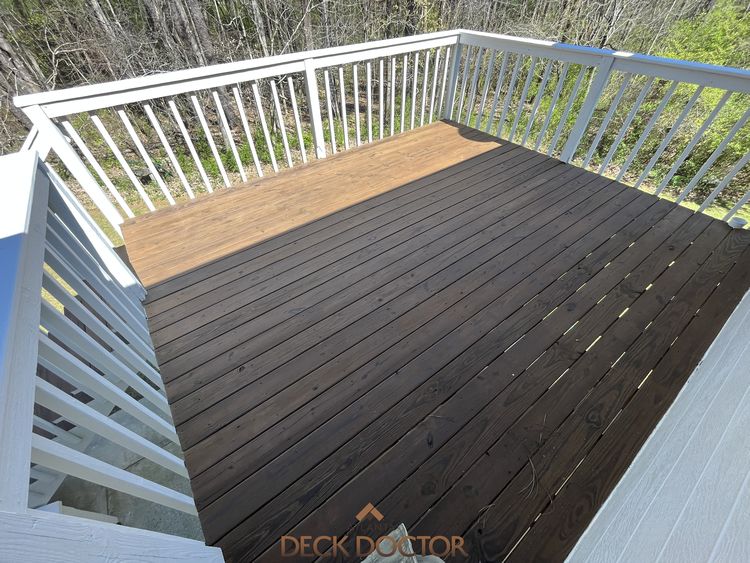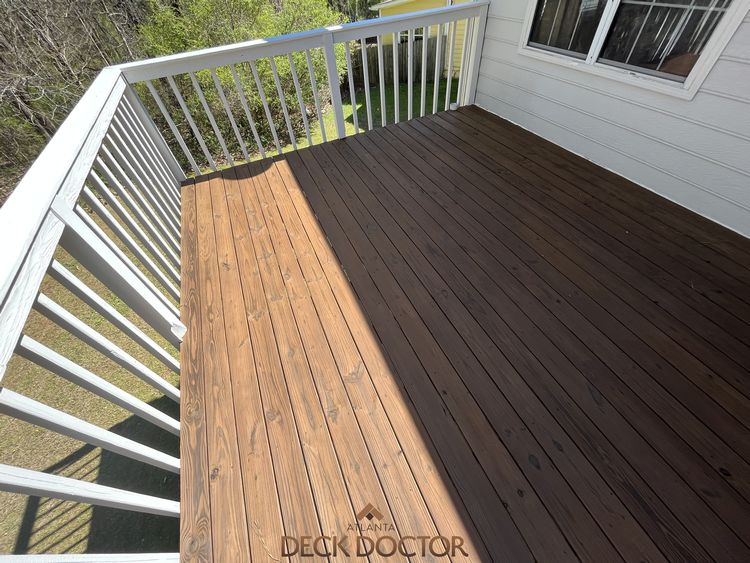 Rails & floor Same Color
You can also go for a more subtle two tone deck appearance and paint the vertical surfaces the same color as the stain on horizontal surfaces. Thanks to Cabot this is now possible.
Two tone deck makeover project Tucker, Georgia Before Pictures:
Below are a few before pictures of what deck looked like (customer tried to DIY), Customer mentioned applying an oil based stain over water based, and stain remaining tacky (not drying).
Two Tone Deck makeover Project Tucker, Georgia After Pictures
After stripping, sanding, brightening we painted the vertical rails, spindles with an oil based cabot solid, then stained floor, stairs with cabot semi solid. Both rails, spindles were painted same color: Spanish Moss by Cabot.
Customer Was Kind Enough To Provide A Testimonial Of His Experience Having Their Deck Makeover / Two Tone Deck Refinished.
Will Be Adding More Content Soon….. Stay Tuned.