Exotic Brazilian woods such as IPE, Cumaru, Massaranduba are not only found in Brazil, they're found all over south, central America as well as throughout the pacific regions. For the sake of simplicity we will refer to these species of wood as Brazilian wood. Brazilian wood species are not only durable, they also have an extremely dense and amazing grain structure making them great candidates for exterior decking. Unfortunately, as Ipe, and other exotic hardwood species have become more popular – many unskilled contractors have incorrectly pressure washed, finished these types of exotic woods for their customers. Being in the exterior wood restoration specialty field we've run into a litany of scenarios – from extreme pressure washing damage to wood surfaces, varnish applied to IPE (flaking off), we even sorted a deck out for a customer whose painter applied a water based Behr to their 1 year old Cumaru Deck – OUCH….. Of all exterior woods (cedar, pine, etc….) – Brazilian wood requires the most skill level to clean, refurbish, and refinish. It may seem simple to do, but in order to obtain a proper finish (to our high standards) requires some know-how and serious elbow grease!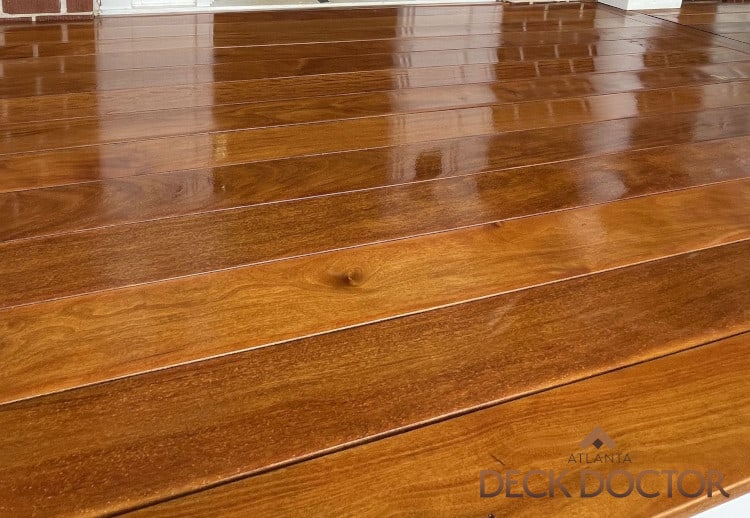 When restoring previously sealed Brazilian wood decks, fences, or siding it is vital to determine what type of sealer is on the surface before attempting to clean – Some sealers may require a very mild detergent in order to remove, while others may require a caustic stripper. Regardless of the cleaning method, we always follow up with a wood brightener/neutralizer, the brightener opens the very tight wood pores which allows for better oil penetration. Sanding is optional, but in our opinion a vital step in a proper  wood restoration job. Once sanding is complete we re-brighten the wood to open its pores, allow to dry and finish off with a penetrating oil application method – apply oil, allow to dwell, penetrate-  and wipe off excess. If performed properly, a Brazilian wood deck, fence and siding restoration project has amazing before and after results every time!
Our Brazilian Wood Restoration Services
A brief listing of the Brazilian Wood Species we restore:
IPE – also known as Brazilian Walnut –  is the most popular species of Brazilian wood used in Atlanta.  When new it has a vibrant rich brownish-red appearance with a lively grain structure. There is a lot of variance from stock to stock which gives it a very natural, yet modern look. Ipe has one of the most dense woods weight, grain.
Cumaru  also known as Brazilian Teak – Cumaru is not as red as Ipe, yet has a rich brown tone – It is very similar to Ipe to clean and maintain. Cumaru is similar to Ipe In density, weight.
Massaranduba also known as bulletwood is similar in tone, as well as hardness to Ipe. It is a very dense wood which is impervious to the elements.
Tigerwood –  Of all Brazilian woods Tigerwood has the most pronounced grain structure. It is very dense like ipe, and will weather to a dull grey patina.
Garapa is a very light wood when new, and will darken lightly as it weathers. It is a lot lighter than Ipe/Cumaru.  Garapa is a lot less dense, heavy than both ipe or cumaru.
These are but a few of the exotic Brazilian wood species we restore and refurbish.
We also clean and refinish Teak, Mahogany, Rosewood Purple Heart, Jatoba, and many other species of hardwoods.
Unless otherwise required or specified our oil of choice to use is Messmer's UV plus Natural – as it doesn't impart any color other than accentuating the inherent natural colors of Brazilian wood. Some customers ask for darker colors such as Armstrong Clark's hardwood decking stains, and we're happy to oblige. For the most part customers are ecstatic about the finished product using Messmer's UV+ Natural.
Contact Your Local Atlanta Ipe Restoration Pros
Whether you have questions about our process, would like a free estimate we want to hear from you – We respond to all text messages, calls, or email inquiries within minutes. We can get you a quote within a day on most cases, and on your schedule just as efficiently. So give us a shout we'd love to go over your Brazilian wood restoration project, and visions with you. You can reach us by phone, or text at 404.992.4870, or by clicking one of the buttons below.