Deck Staining & sealing
Atlanta deck doctor is the wood restoration company of choice providing Deck Staining And Sealing Services In Atlanta, Georgia. The preservation and protection of outdoor wooden decks is not the only service our customers rave about. We take a wider approach to our wood preservation business. Our method ensures our customers not only benefit from expert staining & sealing of their decks, but also provide a stress free experience. Whether communicating via phone, text, email – to setting clear expectations, timelines, scheduling: Our goal is to change the negative stereotypes associated with contractors. Atlanta deck doctor aims to provide every one of its customers with a stress free deck staining & sealing experience, while remaining competitively priced. A fine balance, yet we've been doing it successfully since 1998.
The purpose of our deck stain & Seal page is to educate, inform, describe our process. Please follow along our table of contents above which will divide this page into digestible portions. Whether you hire us or not, please use our page as a source from which to make more informed deck staining and sealing decisions.
WHY: Stain & Seal A Deck?
Maintain wood's natural beauty: Staining and sealing a deck will preserve your deck's natural tones. This is especially so when using a clear sealer, toner.
Prevent Mold & Mildew: Mold and mildew growth are a constant battle in Atlanta due to our high humidity summer, warm climate. Application of a stain & seal coat along with annual or bi-annual cleanings are the best means to prevent mold & mildew growth.
Prevent fungal decay: Fungus thrives in moist, warm, dark environments. Ensuring your deck is clean, Space Between Deck Boards Remains Clean combined with a good seal application are vital to prevent fungus from growing & spreading on your wooden deck surfaces.
Protect your investment: No one wants to pay for floor board replacement, joist replacement. Best way to prevent costly repairs is to set forth a regular maintenance schedule, and follow, respect these maintenance guidelines.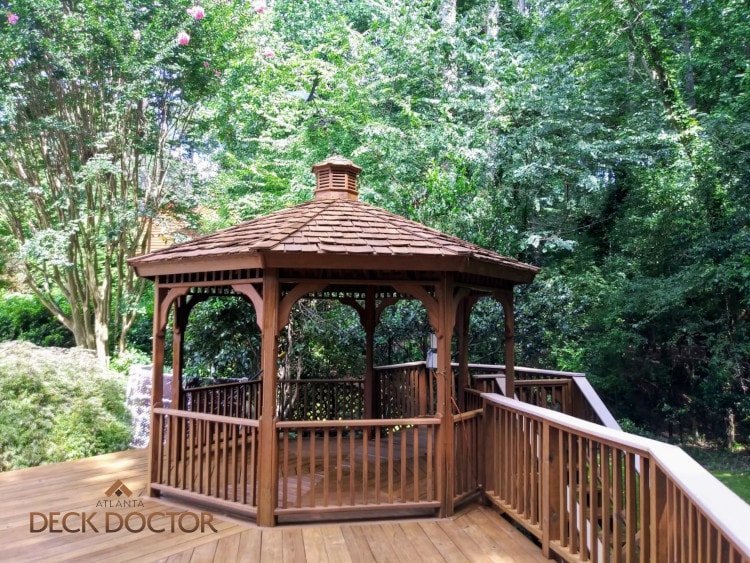 HOW: To Stain & Seal A Deck
In order to stain & seal a deck one has to first determine the starting point (current condition of deck). This starting point will dictate the best method to stain & seal. The most common conditions and methods are:
New Decks: Although new decks are the least complicated substrates to stain and seal, does not mean it is a simple task. New decks require a thorough cleaning, thorough brightening, expert application of stain & sealer. Failure to follow these steps will yield poor stain & seal life, premature mold & mildew growth, fungal growth.
Previously Stained Decks: Previously stained decks will require a record of previous product/s used, these previous products will dictate preparation required, product to refinish.
Whether your deck is new, or previously stained – the maintenance and upkeep for these surfaces should be left to the capable hands of a deck staining & sealing expert.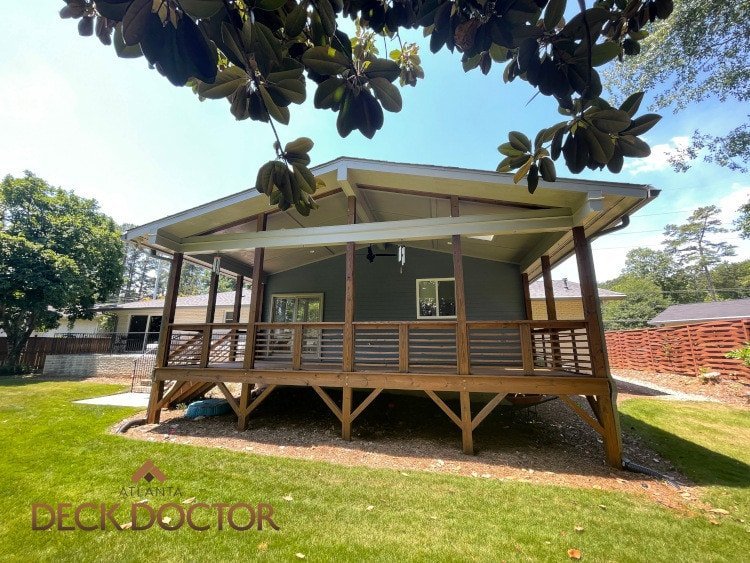 WHEN: To Stain & Seal A Deck
Optimal temperature range to stain & seal a deck is between 50 and 85 degrees. When temperatures are too cold- stain will not dry quickly, if overnight temperatures drop below freezing deck surface will form ice crystals, damaging the uniformity of stain's final appearance. When temperatures are too warm- stain can and may flash dry (especially in direct sun) and not penetrate evenly, leaving a splotchy inconsistent finish leading to poor stain longevity.
Avoid Pollen Season: Stain should not be applied in the middle of pollen season. In Atlanta this is usually between late March – early June. Applying stain over pollen could cause mold, mildew, fungal spores to be trapped under stain thereby shortening stain life.
Leaf Debris, Tree Debris: During spring & fall months, you may have an excess of leaf debris, tree debris (such as helicopters, acorns, seed pods, etc). Fall leaves are decaying, and can transfer fungal, mildew, mold spores over to deck surfaces. Staining a deck with constant falling debris creates challenges. It is best to avoid months with constant debris. There are decks where it cannot be avoided as there is debris falling year round. In these cases we can use a blower, cover deck with tarps.
Avoid rainfall: Never want to stain before rain, or right after rain.
Combining the why, how and when – we can set forth a set of best practices when staining and sealing a deck. We adhere to these best practices for every deck job.
Deck Staining & Sealing Best Practices: New Decks
Moisture content of wood must be low: Optimal moisture content for new decks is 15% and below. A General Brand Moisture Meter is inexpensive, and a tool every homeowner should own. We recommend periodically checking your new deck until moisture content is at or below 15%, check floors, stair steps, handrails, posts to get a real feel for the overall deck's moisture. NOTE: Moisture meters have extremely sharp & pointy prongs that should not be handled by children.
Perform Proper Prep Prior To Staining: This involves cleaning, brightening.
Removal Of Mill Glaze, Planer Crush: Mill glaze is caused by the reaction of a lumber's moisture/sugars with dulling saw blades at the mill. This reaction creates a waxy film on the lumber's surfaces. Mill glaze will need to be removed prior to staining any new deck. Planer crush is caused when mill blades become dull, resulting in the porous surface cells becoming obstructed. There are many schools of thought regarding mill glaze: We take the old school approach and remove mill glaze as best as possible before staining and sealing a new deck. This helps improve stain absorption. NOTE: First time a deck is stained it will not take the stain as well as future times. This is partly due to the tone of the wood.
Color Samples: We put down color samples on deck so customer can see the stain on their deck – not a sample board, not a color wheel, not a chip. This ensures customer will not have surprises regarding final color appearance. The sample on their deck will be the color their deck will be stained.
Protection of home surfaces: Home surfaces will be protected with plastic, drop-cloths, tape. Oil based stains are thin in viscosity and will spatter easily. We protect your home surfaces (concrete, siding, pavers, stone, windows, doors) to ensure no stain gets on your home surfaces.
Apply A Quality Semi Transparent Oil Based Stain & Sealer. We use quality semi transparent oil based stains from TWP. These products not only yield a natural appearance, but will perform well when staining and sealing a new deck.
If A More Opaque Stain Is Desired We Do Cabot Semi Solid (oil). Cabot Stains Have A Wider Color Range Ticking All The Boxes For Decorators, Color Consultants, And Those Looking For A More Custom Appearance For Their Deck Stain.
Apply The Right Amount Of Stain: We don't under apply or over apply oil based stains. Either can lead to poor stain life.
Final Walk Through: We always perform a final walk through with our customer a week after staining to ensure proper, even stain application, ensure total customer satisfaction.
We do not accept payment unless our customer is completely satisfied with the staining and sealing of their deck.
Note regarding new decks: The first application of a deck stain will not be as rich as subsequent applications. This is especially so with darker brown stains, dark grey stains. New decks will not take stian pigments as well the first time.
Deck Staining & Sealing Best Practices: Previously Stained Decks-
Gather Information From Customer: In order to re-stain , refinish a deck we will need a physical can of previous product used or will need a record of product used. We need this information in order to determine prep required for re-application. We also need this record to determine feasibility of reapplication, availability of stain (many stains are discontinued, manufacturer is no longer in business). NOTE: In order to stain to look uniform it will need to be the exact same product, exact same color otherwise final appearance may be splotchy, and inconsistent. It is very important to always save a record of products used on your deck.
Thorough Cleaning Of Previously Stained Surfaces: Very Important to thoroughly clean all surfaces to ensure mold, mildew fungus are totally removed.
Application Of Stain & Seal: We re-apply refinish decks according to the stain and sealer product application instructions to maximize stain life.
Final Walk Through: We inspect every job one week after completion to ensure customer satisfaction.
Again, we do not accept a penny unless our customers are completely happy with the job.
NOTE: Regarding previously stained/sealed decks:
Some water based stains such as Sikkens Cetol, or similar may need complete removal prior to re-application. We do not recommend using sikkens cetol on sun exposed decks due to the product eventually flaking off requiring a complete removal (costly) prior to reapplication.
Some deck stains cannot be stripped, and sanding off may be impossible (lattice work, intricate surfaces). These surfaces will require application of a solid body deck stain (totally opaque stain).
If you have stubborn stain that cannot be stripped: contact us to discuss options such as Two Toned Decks.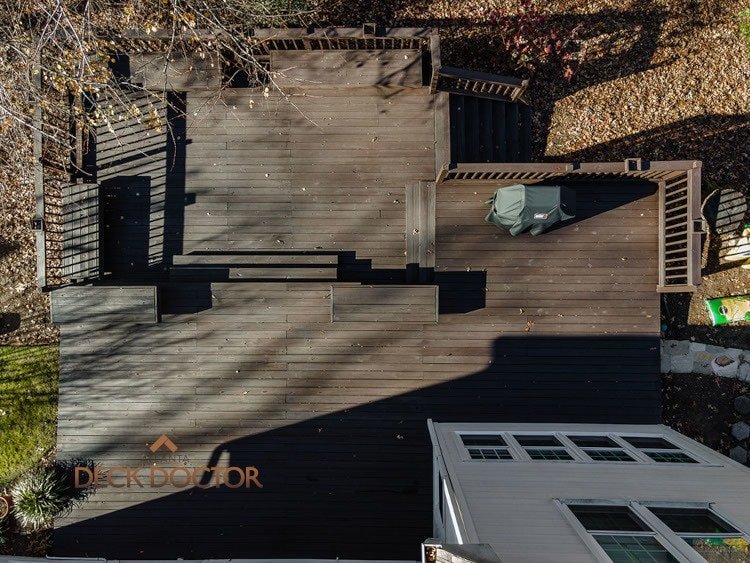 Product Selection For New Decks:
Stain Product Selection for a new deck is the most important decision a homeowner can make. There are two types of stains which a deck can be stained with – 1)water based stains and 2) oil based stains.
Water based Stains:
Labels may have words like: Oil modified, acrylic, water based. No matter which of these it is labeled with – the stain is water based. We do not recommend using water based stains on decks that are exposed to the elements.
Disadvantages Of Using Water Based Stains:
Water based stains are acrylic film-forming stains. Because deck floors, stairs expand and contract with foot traffic, moisture fluctuations the product used to stain & seal these deck surfaces should move with the wood. This is the fatal flaw with water based acrylic film forming stains. At first the product does allow for wood's natural movement, but UV exposure (sun, rain cycles) causes acrylic stains to become brittle. Once a water based stain has become brittle it will start to flake, and peel. Eventually water based stains will fail requiring complete removal (costly). We do not recommend water based film forming stains for decks exposed to the elements.
Mold, mildew growth under film forming stains: Products like sikkens cetol, Behr, and similar can develop mold under the coating requiring total removal (costly).
Unless you live in an HOA community which specifically requires a water based stain – we recommend you do not use these products. Some paint stores offer oil based semi transparent stains in the same color as the water based counterparts. Paint stores do not advertise them as they have a larger profit margin selling water based stains, so always ask if there is an oil based alternative.
Oil based Stains:
Oil based stains come in many brands. The most reputable brands we use are: TWP, Armstrong-Clark, Cabot, Arborcoat (oil based). There are many others which are more readily available in other regions, but we'll focus on what's available in Atlanta, Ga. We wholeheartedly endorse using oil based stains for new and older decks.
Advantages of using oil based stains:
100% Penetrating Oil Stain. With products like TWP, Cabot, Ready Seal, Armstrong Clark you get stains that penetrate completely. There is no film on the surface of your deck that remains. Zero risk of your deck stain peeling. These oil based stains penetrate deep in your softwood/hardwood decks ensuring you get deep protection against UV damage, as well as protection from rainfall, mold, mildew, fungal growth.
Ease Of Application: Unlike water based stains that require total removal prior to reapplying (difficult and expensive) reapplication of oil based stains is dead simple making it a huge plus to keep long term maintenance costs down.
Oil based stains reformulate less: Water based stains like Sherwin Williams Superdeck tend to reformulate often, many times in order to comply with EPA regulations. Issue is – with the reformations colors will change. When colors change the stain color will be different affecting appearance of future touch up. Oil based stain products like TWP remain the same year after year.
More Natural Appearance: Water based stains (even oil modified) cannot replicate the finish an oil based stain yields.
Deck Staining & Sealing Myths & Facts:
Using a water based stain is better for the environment: Myth . When taking into account water based stains flake & peel, require applying caustic strippers (whose runoff winds up in lakes, streams) to remove. Followed by sanding, followed by brigthening, then reapplying the water based stain, and then having to do this same exact maintenance process every time a deck has to be refinished you'll notice water based stains aren't that green. Water based stains are moneymakers for paint stores as they can sell all these ancillary products down the road. Don't fall for the 'water based is better for the environment' lie.
If I apply more stain it will last longer: Myth. Depending on the stain you use- Using oil based stain, if over-applied will not dry thoroughly, will remain tacky, and attract dirt, then mold & mildew. Water based stains when over-applied will ensure premature failure (flaking, peeling, chipping). Always follow the stain/sealer product technical data sheet (tds) to ensure a long lasting finish.
'X' Brand stain has a 10 year warranty: Myth. These products (often sold at big box stores) are deceptively labeled to lure customers to buy their products. There is no 10 year deck stain. If you are lucky enough to have a covered porch, screened in porch with zero sun, rain exposure then yes, a deck stain will last 5 to 10 years. The moment you move outside under inclement weather a stain's longevity is drastically reduced. It is even worse with decks exposed to full afternoon sun. There is no deck stain that will last 10 years on a deck exposed to the elements.
The more expensive a deck stain is the better it will perform: Part myth part fact. You do not want to buy the least expensive deck stain (such as thompson's), nor do you want to buy a $120 per gallon deck stain (rymar). Finding a 'sweet spot' product like TWP, Cabot is a good choice. These stains will provide a good balance of protection, value.
25 Year Treatments: Myth! – There is no product that we know of that will protect your deck against rot for 25 years. We wish there was such a product. Our advice: make sure you read the fine print regarding these products with lofty claims.
Never Apply Stain In Direct Sun: Part Fact. You should not apply stain in direct sun when temperatures are above 85 degrees. This will cause the stain to flash-dry. When a stain dries instantly (flash dries) due to wood surfaces being excessively hot it will prevent more stain from penetrating . This applies to both water based stains, or oil based stains. Do not apply stain on a deck floor with full sun exposure on a hot day. Do apply stain in the morning before sun becomes unbearably hot.
Using A Brush To Stain A Deck Is Better Than Using A Sprayer: Fact. We prefer to use stain pads & brushes to apply deck stains. When applying stain on a deck it is important to agitate the stain into the wood. Spraying a deck stain without back-brushing or agitating with stain pads will not yield long lasting results. A stain or sealer should always be worked into the wood so the wood can absorb not only the oils, but receive the pigments evenly for a uniform appearance and long-lasting stain life.
Always Stir Stain Before, During Project: Fact! All stains should be boxed together (intermixed) prior to starting any project. A squirrel mixer is the best product we've found that best replicates a paint stores mixer, works well with any cordless drill. Always mix prior, during and up until project completion to ensure a consistent finish, prevent splotchy appearance.
Stay On Top Of Weather Conditions: Fact! Always check forecast prior to staining. We always check and ensure there is no rain forecast for the day of staining. This is even more important if you are using a water based stain.
New Decks Have mill Glaze And It Must Be Removed Prior To Staining: Fact! There are many opinions online, many articles, research papers regarding mill glaze. It is caused at the mill due to saw blades becoming extremely hot, reacting with the moisture/sugars in the wood being cut. That reaction creates a waxy film on all sides of newly milled lumber. This waxy film needs to be removed prior to staining and sealing a deck. A light cleaning, followed by a wood brightener removes this mill glaze well. That said, the first time a deck is stained (with oil based stain) it will not take the stain color as well as future times. This is especially true when dealing with darker colors such as dark browns, greys.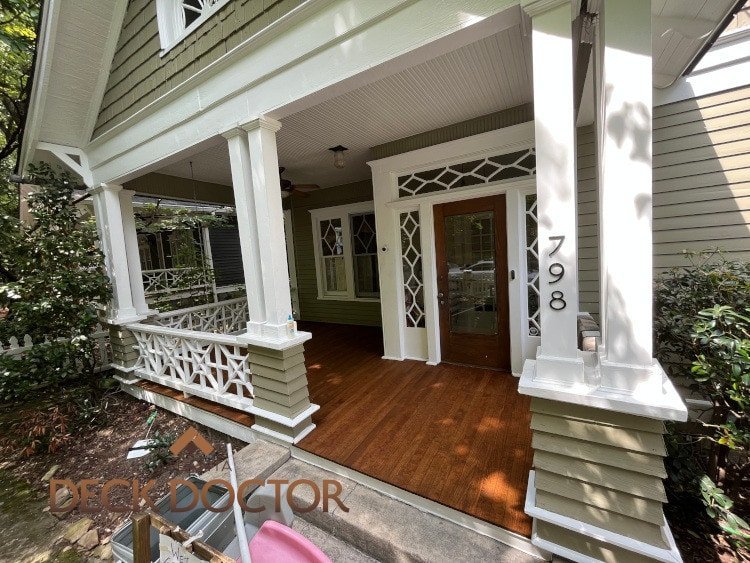 What Qualifies Atlanta Deck Doctor As The Best Local Deck Staining & Sealing Company Near You?
Let us count the ways:
We never accept a penny until our customers are 100% satisfied.
We Stain & Seal decks by the book, we do not take shortcuts, ever.
25+ years experience staining & sealing decks.
Our service area is small. We place quality of work over profits.
We don't pressure wash driveways, don't paint houses. Deck Staining & Sealing Is our specialty, It is ALL we do.
Highest quality materials. We never skimp on using quality materials.
We are local. If we service your area that means we are a 10 to 15 minute drive away max. This ensures speedy response times.
Our deck staining & sealing specialists have been with us for 16+ years. We don't have employee churn, you'll never see a now hiring sign on our website.
We love happy customers. We will bend backwards to make our customers happy. We put our customers first, always.
We love repeat customers even more. There is a reason we have repeat customers. There is a reason repeat customers provide video testimonials attesting to our commitment to provide stellar service. We ensure their satisfaction every single time. We value repeat customers, and appreciate their repeat business.
We know there are other contractors in town that offer deck staining and sealing. We appreciate your making it to the bottom of our page. It means you're an informed customer, which is the best type of customer. Please, if you have any questions regarding our process, questions about the products we use, our scheduling, our lead time, or pretty much any other type of question don't hesitate to message us. We can be reached by phone/text at 404.992.4870 or by clicking on one of the buttons below.
Deck Staining & Sealing Lookbook
We Service The Following Cities:
Alpharetta
Avondale Estates
Brookhaven
Chamblee
Clarkston
Decatur
Doraville
Druid Hills
Dunwoody
Kirkwood
Norcross
North Brookhaven
North Decatur
North Druid Hills
Peachtree Corners
Roswell
Sandy Springs
Scottdale
Smoke Rise
Tucker
Deck Staining & Sealing Frequently Asked Questions
Depends on type of wood deck is made of. Cedar decks, Ipe decks, Kiln dried decks can be stained right away. Non kiln dried pressure treated pine decks cannot be stained due to moisture content of wood. A damp wooden deck should never be stained, sealed as there will be mold, mildew issues down the road. We recommend purchasing a moisture meter and periodically check wood's moisture content until wooden deck boards are at 15% moisture content or below before proceeding to staining.
Wood deck stains also have sealing properties in them. This means that the stain and sealer are all one product. You never want to apply a sealer on top of a deck stain as it will affect re-application of stain down the road.
How long a deck stain lasts has nothing to do with the product, and has more to do with your surrounding micro climate. Every house in Atlanta has its own micro climate. Whether your deck has full shade, full sun will affect the stain & sealer's longevity. Some stains hold up longer due to little sun exposure, some stains last less due to sun exposure. Rule of thumb: Always stain and seal your sun exposed deck every 1.5-2 years. Shaded decks should be stained & sealed every 2 years maximum, and cleaned regularly.
We seldomly recommend water based stains over oil based stains. Oil based stains provide excellent protection, and are simple to perform maintenance to. Water based stains in contrast require complete removal when it is time to refinish, adding substantial cost when performing maintenance to. If you have a covered porch such as a screened in porch then a water based stain can be used with the knowledge that it will need to be sanded off completely when refinishing.
Stain & sealer drying time is affected by ambient temperature, humidity. Since we use oil based deck stains they take longer than water based. We recommend customers stay off decks for at the very least 3 days, preferably 5. Deck stains will take a full month to fully cure meaning it takes that long before you can drag heavy objects across your deck. Doing so prior to a month's time can leave marks.
We do not recommend clear sealers on sun exposed decks as they have no trans oxide pigments. Trans oxide pigments are what protect exterior wood from shifting color (turning grey from sun exposure). Clear deck sealers have no sun damage protecting properties. Yes, you can seal your deck with a clear sealer, should you? We think you would be better served applying a more natural stain & sealer than just using a clear sealer, you'll get sun protection, and your deck will look great.
We ask that you clear your deck off completely. We also ask that you ensure all trees, bushes, plants are trimmed away from deck to allow free movement around deck surfaces. Planters, plant irrigation should also be removed from decking.
Depends on product being applied. Products like TWP 1500 series require two coats wet-on-wet, products like ready-seal, Armstrong-Clark require two coats wet-on wet. Some products require one coat . Our rule of thumb is – always apply enough stain, not too much where it will not dry, and not too little where wood looks like it needs more. It is a sweet spot. We always follow deck stain manufacturer's application instructions.
Staining a deck should be performed when temperatures are between 50 and 85 degrees. Decks should not be stained & sealed during pollen season, should not be stained in direct sun when temperatures are above 85 degrees. Depending on your surrounding tree canopy, you should avoid staining your deck in fall months to avoid tree debris. If we were to pick a best time it would be after pollen season, before temperatures get too hot.
We take a different approach from other companies that stain decks. We apply samples of stains and sealers on our customer's decks. We first ask our customers to send us pictures of decks they've seen online they've liked so we get a feel for what kind of look they're looking for. We then send customers pictures of different deck stain colors on decks we have completed that are similar to their ideas. Once they've picked a few colors we then put down color samples on their deck so they can see the actual stain color on their wood. We do this for a reason- all wood is different, has different tones and will take stain differently. The same stain will look like a different color on an older deck than a new deck. Same stain color will look different on a cedar deck than a pressure treated pine deck. We always ensure that our customers see these deck stain colors on their decks before making a color decision. This ensures that there will be no surprises as to what the color will look like. There is nothing worse than a customer who hates the color on their deck.
Even though darker deck stains contain more pigment than lighter colored stains- darker deck stains will absorb more sun, will become hotter and thereby last as long, or less than lighter colored stains. We recommend never going too dark on deck stains if you can help it, especially if you like using your deck barefoot in summer months (and your deck has heavy sun exposure). Armstrong Clark, Cabot both have a wide-range of oil based deck stains that can satisfy most tastes while providing excellent sun, rain protection.
Varnishes, Polys, Sanding Sealers are meant to be used on doors, vertical woodwork. We do not recommend using any of these products on walking surfaces, especially those exposed to UV rays, rain, the elements. If you are seeking a deck stain & sealer with a bit of sheen you can use a product like TWP's 1500 series which imparts a sheen, but wont' run into issues like using a varnish, sealer that will flake off with time.
Some swear by boiled linseed oil- and in some projects it may be a suitable product to use. We do not recommend linseed oil due to the product looking splotchy when reapplying, issues with mold, mildew. Boiled linseed oil is used but in small quantities in certain stains, sealers. Best stains are those that provide great protection, uniformity of appearance, ease of re-application. For these reasons we do not use linseed oil. This is the same with tung oil. Tung oil is GREAT for finishing hardwood floors, not so much for outdoor decks.
Deck stains can remain sticky for various reasons. If an oil based stain is applied over a water based stain the stain will never dry, will remain sticky. Dirt, spores will stick to stain thereby causing surfaces to turn black from mold, mildew. Other decks have oil based stains over-applied. This over-application of stain leaves too much stain on surfaces. Oil based stains rely on penetration, and will not dry when excessively left on surfaces. Ipe, and hardwood decks will have sticky issues due to overapplication as well. Hardwood decks should be wiped down after application to ensure no excess is left.