Deck Sanding
Deck sanding is a service Atlanta deck doctor has provided since 1998. We are the only deck restoration company in the Atlanta area that provides deck sanding as service to its customers. We are creating this page to serve as a point of reference which prospective customers, those seeking to learn more about deck sanding can use. We will cover reasons to sand your deck, benefits, of sanding your deck, dispel any myths and misconceptions regarding deck sanding, as well as provide plenty before, during & after pictures to illustrate the difference a professional deck sanding job can make.
Why Sand A Deck?
There are many reasons for sanding a deck. Majority of times customers ask for us to sand a deck to remove raised grain caused by other contractors, but there are many conditions where sanding a deck can be beneficial. The tools, methods vary depending on what substrate needs to be sanded, what specifically needs to be sanded off. All wood species can be sanded, whether your deck is a softwood deck like cedar & Pine, or a hardwood deck like teak, Ipe- sanding can help fix imperfections. What are the main reasons to sand a deck?
Rectify raised grain: Inexperienced contractors wash decks, and leave behind a mess of raised grain. For many years now we have rectified damage caused by unskilled pressure washing technicians. This is probably the most common request we receive for sanding.
Correct splintering: Splintering occurs mainly in pressure treated pine decks, but can also occur on hardwood decks with enough damage. Splintering can be rectified, on pine decks splintering will recur, as pressure treated southern yellow pine is splinter prone.
Removal of stubborn water based coatings from horizontal surfaces: Stubborn coatings such as: paints or stains that are not easy to remove, yet are peeling, flaking. These products are usually water based semi transparent and solid color stains.
Catastrophic coating failure: These are extreme cases, although common are not as common as previous . Products like DeckOver by Behr, Deck Correct by Cabot are the usual culprits. These products should never be used on deck floors as they 1)trap moisture 2)create the perfect breeding ground for wood rot 3)suffer from catastrophic coating failure. Sometimes a deck isn't too far gone and we can salvage by sanding. Many times it is too late, and wood is too far gone to save.
Removal of blemishes on wood, imperfections. Sanding can remove blemishes from wood such as water rings from planters, ferrous staining, and overall UV discoloration at edges of area rugs, etc. Sanding can help renew and even out wood decking to have a more consistent look.
How To Sand A Deck:
Given all the conditions where sanding is warranted- the equipment to perform sanding, method to sand varies. We'll list the conditions and methods below. Keep in mind that these are just general guidelines, real-world equipment & methods will vary as every deck, every coating on a deck is different.
Rectify raised grain: we prep a deck as normal (clean, strip, brighten) once dry we will run a 110V large-format random orbital sander with 60/80 grit sandpaper. This method removes raised grain, leaves deck nice and smooth. We also buff out vertical surfaces, and remove raised grain from these. On the cost scale this method would be the most moderately priced sanding service we offer.
Correcting splintering: is tricky as pine is brittle and splinter prone. On new decks splintering is caused by installers not pre-drilling holes leaving behind a splinter crown around the head of all screws. This is something that again could have been prevented by pre-drilling or using screws that do not dimple wood in such a way to leave behind these splinter crowns. On older decks splinters happen due to lengthwise splitting of wood pieces separating due to foot traffic, dragging of furniture, and normal wear and tear. Regardless of the cause, when rectifying splintering one has to be careful not to overdo it. All screws or nails need to be recessed and a few passes need to be made with an 80 grit paper. There is no need to use a more aggressive sandpaper than 60 grit for this purpose, and always finish with 80 grit. We've found 80 grit hits the sweet spot, 100 is too fine of a finish.
Remove stubborn water based coatings we have to bring in the 220v belt sander. This belt sander requires all screws or nails recessed, and doing two passes on all deck floors. One with 40 and one with 60 or 80 grit. It is a fair amount of work to remove peeling water based coatings, but the results are great. Keep in mind that the space between floor boards cannot be sanded off, and as long as final coat is similar in color or darker this space will not be noticeable.
Remove elastomeric paints like deckover takes the most skill, the most effort, and the most material/labor cost. We don't recommend this type of sanding on severely weathered decks as removal of these coatings can be expensive. If your deck floor boards are in good shape, and you need these paints removed this method will do a great job to remove deckover, deckcorrect and similar coatings. Please keep in mind that using a 220v belt sander will remove elastomeric coatings, but paint in space between boards will not be able to be removed. As long as you stain your deck floor with a similar or darker color it will never be visible.
If staining your deck after sanding it is good practice to use a wood brightener, neutralizer. The wood brightener will remove contaminants, remove any waxy residue that may have been created from the friction of sanding. The inherent moisture in wood reacts with sandpaper sealing off the top layer of wood. Using a wood brightener will remove this film aiding in future stain/sealer absorption. It is good practice to include this necessary step in every deck sanding project. Failure to do so will render less than stellar results.
Deck Sanding Before & afters
Take a look at the before & afters demonstrating the difference a professional deck sanding job can make.
Deck Sanding Project Atlanta, Georgia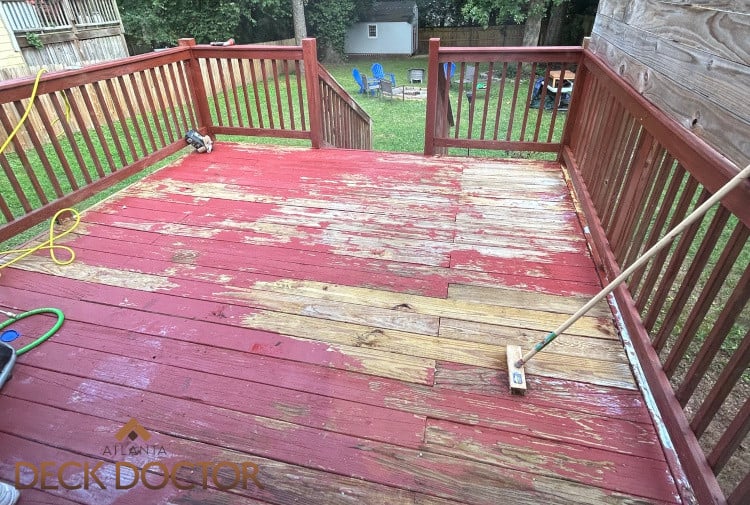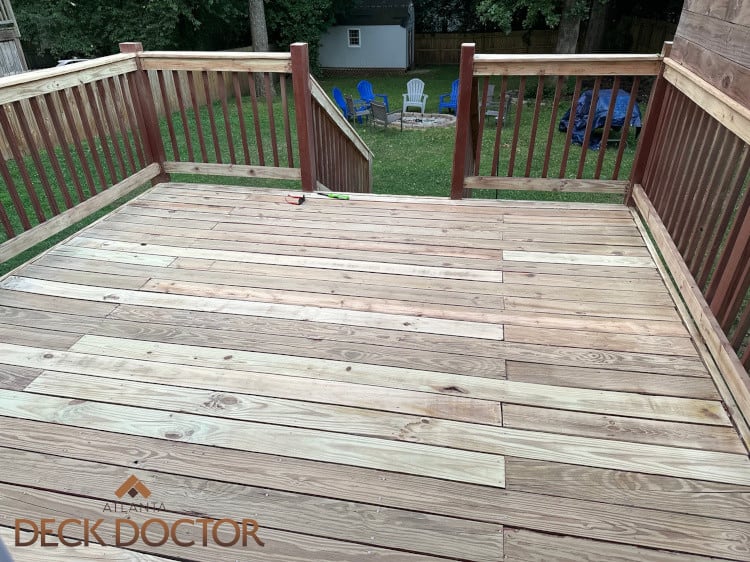 Deck Sanding Project Atlanta, Georgia. On Deck Above – Customer purchased stain from HD, and hated the stain immediately, he tried to chemically strip the deck floor with poor results. Contacted Atlanta deck doctor and in ONE day we were able to remove the paint. See the before & after pictures , they speak for themselves.
Deck Sanding Project Norcross Ga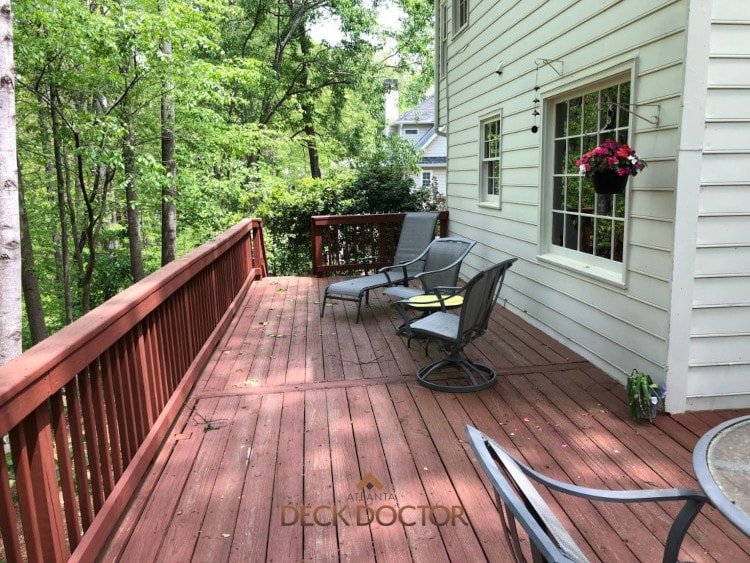 Deck Sanding Project Norcross, GA Circa 2021. Customer hired Atlanta deck doctor to clean, sand stain & seal his deck. We removed the faded, chipping water based paint from their deck floor, brightened, and re-stained with a quality stain that will be durable and will not peel again.
Paint Peeling Deck Floor Sanding Project Atlanta, Georgia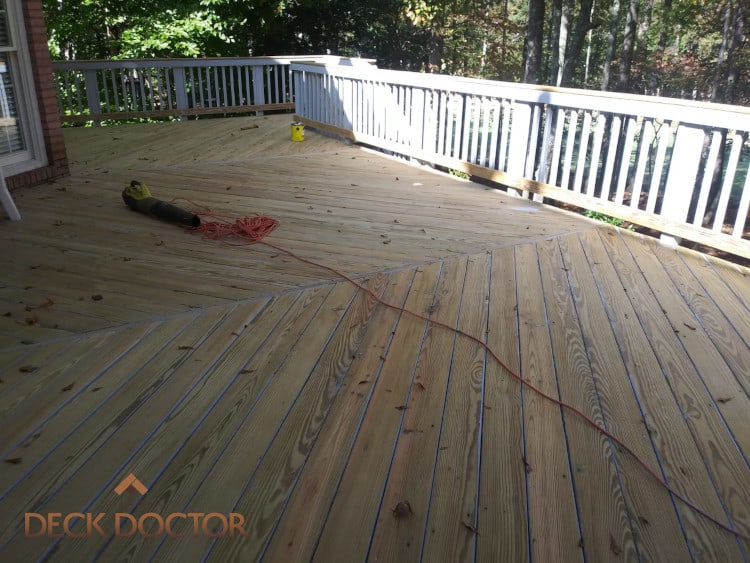 Paint Peeling From Deck Floor Sanding Project Atlanta, Georgia. Customer hired Atlanta deck doctor to rectify the catastrophic coating failure on their deck. as you can see from before picture the paint was coming off badly. We thoroughly sanded, brightened and applied two coats of solid body stain as per manufacturer's specifications.
Deck Sanding Project Doraville Georgia (1 of 2)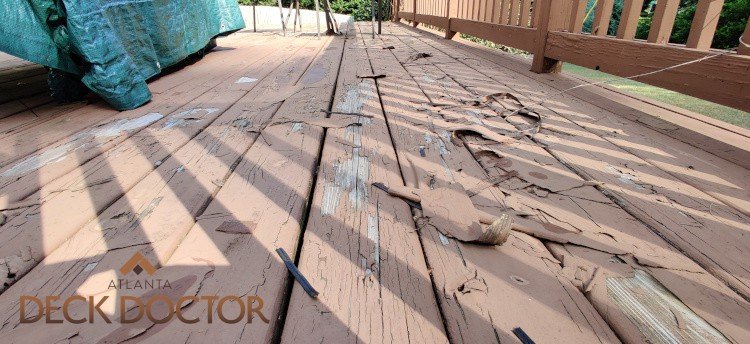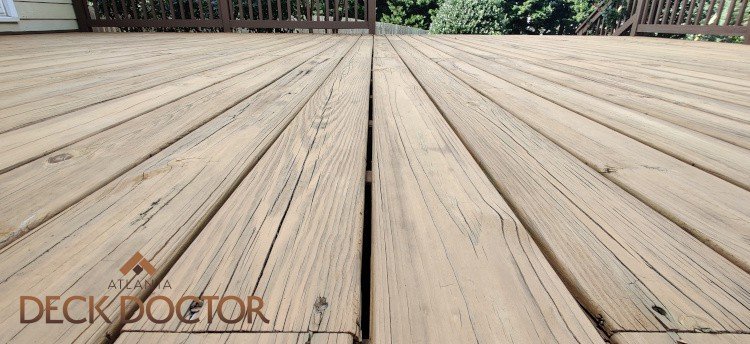 Deck Sanding Project Doraville Georgia/Catastrophic coating failure: Customer had deckover peel in sheets. We swept up (literally) the peeling paint, sanded, brightened, stained & sealed deck. Will show two before and afters to illustrate difference.
Deck Sanding Project Doraville Georgia (2 of 2)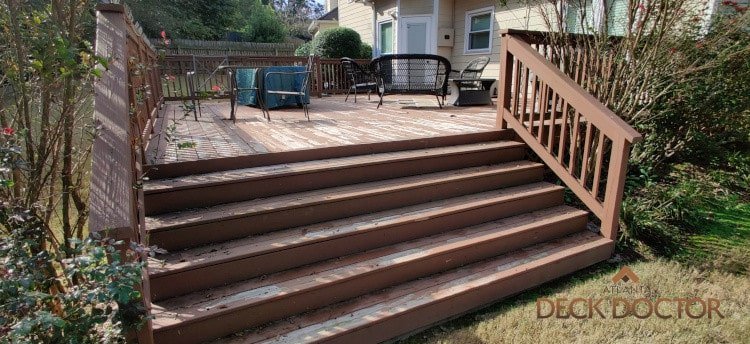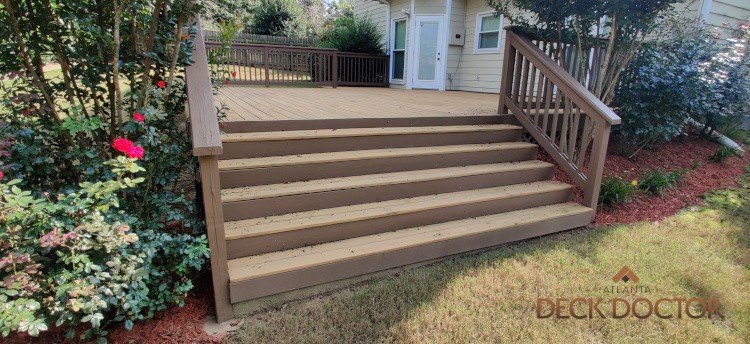 Deck Sanding Project Doraville Georgia/ catastrophic coating failure: Before & After pictures of deckover removal (sanding).
Our service area:
We service the following cities, if your city is not listed below, please contact us, and we'll gladly check if you are in our service area. To view our entire service area please visit our Atlanta service area page.
Alpharetta
Avondale Estates
Brookhaven
Chamblee
Clarkston
Decatur
Druid Hills
Dunwoody
Lilburn
Norcross
North Brookhaven
North Buckhead
North Decatur
North Druid Hills
Peachtree Corners
Roswell
Tucker
Smoke Rise
Deck Sanding FAQ's
Newly built decks will have cosmetic imperfections – whether due to defects in wood, splintering of wood when it is cut. A light sanding can rectify these cosmetic imperfections.
The stamps you've noticed on your new deck are ink grade stamps. These ink grade stamps are marked off at the sawmill where wood was cut, milled. The stamps are there to note grade of wood, mill where wood was cut. These stamps are there so consumers know exactly the grade, quality of wood they are receiving as well as the sawmill where lumber was milled. Grade stamps can be sanded off, but keep in mind, after sanding there will be a sanding mark left. These marks will be noticeable. We recommend allowing these stamps to fade as they will do so with time.
We use state of the art sanding equipment, some with dust reclamation attachments such as hepa, dust bags. Still, there will always be dust created from sanding of a deck. We always follow our deck sanding with a thorough backpack vaccum of all deck surfaces. We make sure there is minimal dust left on your deck, porches. We also follow up a deck sanding with a light wash to rinse off any latent dust from your home's surfaces.
New deck paint will still be soft. It takes a full month for paint to cure, and will take even longer if paint was over-applied (thick coat). We recommend waiting 90 days before attempting to sand off a newly painted deck.
Time to sand a deck will rely on size of deck, type of deck coating to be sanded off. Typically a normal sized deck will take a full day to sand. Larger decks, decks with stubborn coatings like deck-over will take significantly longer.
We use a combination of HEPA hand sanders (mirka, festool), as well as large format orbital sanders, 220V large format belt sanders. Type of sander we use depends on what needs sanding.
In order for us to thoroughly sand a deck we will need deck totally cleared off- this includes plants, furniture. There will be a thorough cleaning of the deck prior to sanding. This is done to ensure dirt, mold, mildew are removed prior to sanding. Secondly we will require access to either a 110V or 220V outlet. The 110V outlet is your normal home outlet. The 220V outlet can be an electric car outlet, a dryer outlet, stove outlet. We have plenty of cord (200′ of) so we can tap off from sources that are a distance away.
Due to the weight of our sanding equipment (some being 200lbs) we do require ground access to a deck to sand. That said, if you allow us access through your house we can sand balcony decks, as well as those decks without ground access.
We Sand Ipe, and all other hardwood deck species such as cumaru, teak, mahogany. We also sand tongue and groove porch floors.
We recommend sanding a deck when deck is fully dry. We cannot sand decks when damp, moist, wet. We also recommend avoiding spring pollen season as well as fall season (for decks that have large debris issues in fall season).
No, we never ask for money up front. We don't discuss payment until we ensure you are totally happy with the deck sanding service we provide.
We can sand all horizontal deck walking surfaces such as floors, stair steps, and handrails. We cannot sand off detail surfaces such as lattice, deck spindles, balusters as it is impossible to sand these detailed pockets properly and economically.
Sanding of decks is not something that should need to be done often. Older, sun damaged decks will require more frequent sanding than a covered porch. Species of wood also dictates how often sanding should be performed. Ipe and hardwood decks will require a light sanding as part of the regularly scheduled maintenance to preserve the wood's flawless appearance. That said, some sanding is cosmetic, some sanding is more for quality of life (rectifying splintering).
Older decks with heavy sun exposure will split lengthwise due to temperature extremes. With time these fissures go deep- sanding will not rectify wood splitting along the grain of wood. Sanding can rectify splintering, raised grain, and even out wood's appearance. Sanding cannot remove splitting.
What you are noticing is pine pitch. Pine pitch should be scraped off, not sanded. Please contact us for more details regarding pine pitch.
Cupping of wood is a sign of moisture issues. This typically happens due to nails being used instead of screws. Also happens if wood floor board cut ends were not sealed prior to installation. We can rectify cupping, but keep in mind that wood will continue to distort.
Contact A Deck Sanding Expert. Contact Atlanta Deck Doctor.
Whether you have questions, would like to schedule a deck sanding consultation we want to hear from you. Please call, text use anytime with any questions you might have. You can also click on one of the buttons below to contact us. We look forward to help with all your deck sanding needs.