Deck Painting
Atlanta deck doctor provides deck painting services. We help homeowners protect their outdoor living spaces from the harsh Atlanta elements.
This page is intended to serve as an information-hub to anyone seeking to learn more about deck painting. Prospective customers can also use this page to learn more about our deck painting process. We will break down the page into sections. Please follow subjects on table of contents above. If, at the end of this page you have any questions regarding the subject, please feel free to text 404.992.4870, and we'll be more than happy to answer any and all questions you may have.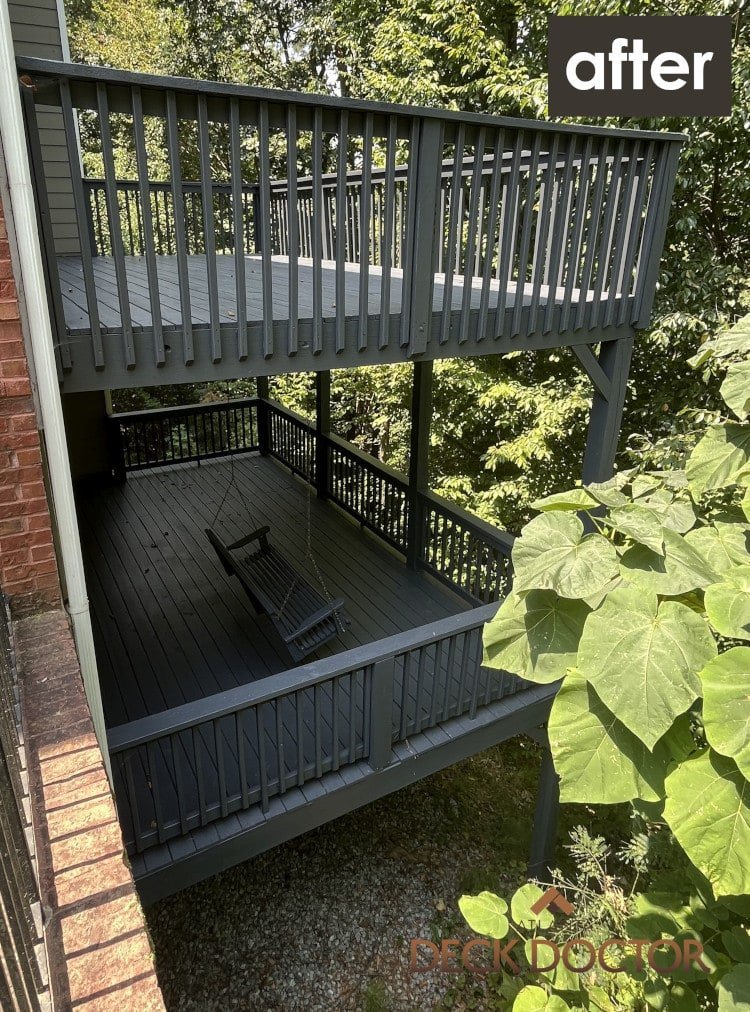 What Is Deck Paint?
There is a big difference between house paint and deck paint. House paints were created to protect vertical home surfaces which are also protected by roofs, overhangs such as siding, trim, doors, windows.
Deck paint on the other hand was created to protect deck surfaces (vertical as well as horizontal) against water intrusion, mold, mildew, UV damage. These deck paints have a proper name: 'solid color deck stain'. There are various types of solid color deck stains. Some are water-based, some oil-based. Some specifically intended for covered areas (porch and floor enamels). What is important to remember, though is- these deck stains all protect in the same way: By creating a hard layer encasing wood which will require frequent maintenance. For the sake of simplicity we will refer to these deck stains as deck paints.
We recommend painting of deck walking surfaces as a last resort, as any deck paint will be prone to peel (long term). This is especially likely to occur to decks that are exposed to inclement weather, moreso to decks with heavy afternoon sun exposure (please read our why deck paints peel section below for more info).
Why Deck Paints Peel?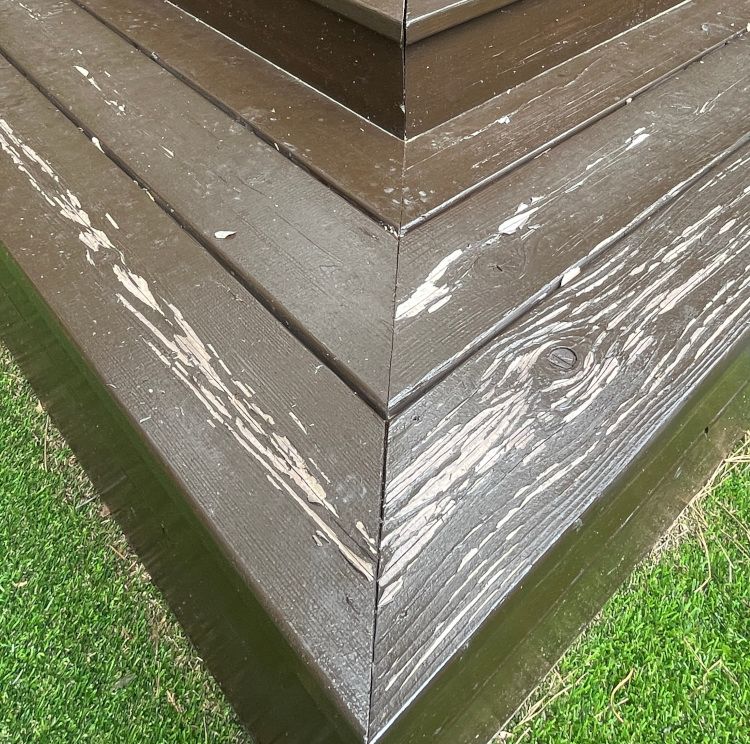 Unlike vertical surfaces – deck floors, stairs, handrails are in constant movement. Foot traffic, changes in humidity, rain, sun – all affect the size, shape of dimensional lumber (pressure treated pine, cedar). Pine, cedar swell when it rains, and shrink with sun exposure. These rain / sun cycles eventually cause wood to split lengthwise. This constant expansion, contraction are the main culprits of why paint peels. Majority of deck paint peeling occurs on horizontal surfaces such as floors, stair steps, handrails- you'll rarely find peeling on rail posts, spindles, or any vertical deck surface. UV exposure causes deck paint to become brittle (water based paints, varnishes), moisture gets under the paint, causing catastrophic paint failure (peeling). The above is taking into account the natural effects on a deck paint. Now, add improper application of paints, over applying, under applying or even applying the wrong type of paint and you can easily wind up with a huge mess on your hands, and a contractor blaming the paint manufacturer, paint manufacturer blaming the contractor and you being caught in the middle. Main point to emphasize is: Deck paints will eventually peel- it isn't a matter of if, just a matter of when. This peeling will create inflated long term upkeep costs. If you prefer the look of a painted deck and don't mind the upkeep costs, that is totally fine, but if you'd prefer not to deal with peeling, read on.
Why Paint Your Deck?
If paints peel, then why should anyone paint their deck? We recommend painting decks in the following scenarios.
Covered Decks: Decks that have large overhangs, decks that have a ceiling above, screen porches, enclosed areas, covered porches. Painting a deck floor in any of these spaces will yield excellent results, with zero peeling (unless you have dogs, then you'll have to deal with claw marks).
Previously painted decks: In some cases people inherit a painted deck. In this case it would make sense to re-paint your deck (most economical).
Decks with extensive weathering, damage, blemishes: Some decks are in such rough shape that sanding, staining with a transparent stain is not feasible. Applying a deck paint will hide most imperfections, blemishes, and will yield a more uniform surface.
HOA stipulates painting your deck. Unfortunately some people have to follow HOA rules, so these are kind of tough to avoid.
These are a few scenarios where painting of a deck is okay. Keep in mind: painting a deck is permanent, it can be sanded off from horizontal surfaces, but cannot be sanded off from detailed areas like lattice, spindles, etc. We encourage customers to do stain samples as well as paint samples before moving forward with painting of their deck. A semi solid stain heavily applied may work well instead of a solid stain and totally eliminate peeling issues.
How To Paint A Deck: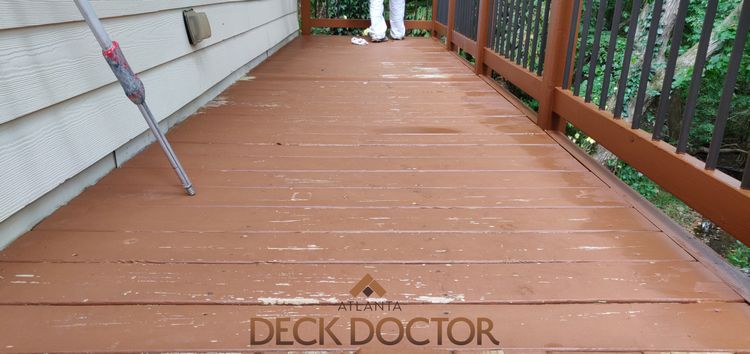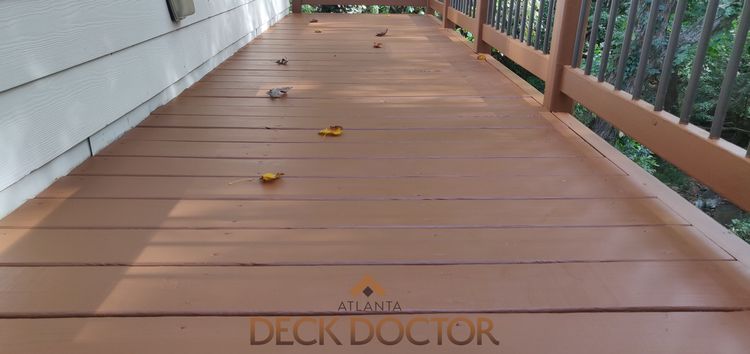 Deck Painting Dos And Don'ts
Do: make sure you are 100 percent certain that you want to paint your deck before moving forward: It will be expensive, nearly impossible to remove paint from a deck once painted.
Do: Prep your deck properly. Remove mold, mildew, clean between deck floor boards thoroughly before painting.
Do: Plan to paint deck when weather is optimal (do not paint in direct sunlight in hot summer months) Ensure there is no rain forecast when painting your deck (the day of, day after).
Do: Purchase oil based solid stain for your deck. They are much more expensive than water based solids, but the product is worth the extra money considering its durability, less likelihood for it to peel.
Do apply 2 thin coats instead one heavy coat.
Don't: Over apply Deck Paint. Applying one heavy coat (especially on walking surfaces) ensures the paint will fail (peel). never apply more paint than one normal coat at a time. Never come back and apply a second coat before the specified waiting time before re-coating on can label instructions.
Do: Read the instructions on back of can, they are there for a reason. Seems obvious, but all deck paints have different cure, re-coat times. While a water based stain may have a re-coat time of 6-8 hours, an oil based solid stain has re-coat times of 24+ hours. Always read instructions on back of can.
Don't: Thin out deck paint. Never add water, mineral spirits. Use product as intended.
Don't: Add granules, sand (for traction). There are products that claim to add traction. All they'll do is shorten deck paint life. If your deck stairs need additional traction add traction strips (aluminum).
Do: Completely clear off your deck before staining. Don't leave heavy objects on deck, then move them as you paint. The paint will be marked up from these heavy objects, and will leave noticeable marks on paint that do not come off.
Do: Purchase the best quality deck paint you can afford. Reputable brands are: Cabot, Flood-Pro, Insl-X Tough Shield (for covered porches).
Do: Ensure existing paint on floor, walking surface is sound, and not peeling. This is applicable on previously painted decks. PROTIP: Use a piece of painter's tape (about 6" long) adhere the tape to a deck floorboard. Give it about five minutes and pull the tape up. If paint lifts off on tape you need to rectify peeling (sand paint off). Failure to remove unsound paint from walking surfaces will lead to short paint life, peeling.
Do: Ask a pro. We gladly answer any questions DIY'ers have. Drop us a line with any deck painting questions, we'll be happy to answer.
Do: Make Paint Color Sample Boards Before Painting Your Deck. If you only take one tip from our painting page make sure this the one....Make color samples on scrap wood pieces before you paint your deck. Never trust the appearance a color chip at a paint store. We cannot count how many times customers have had contractors paint their deck without first seeing the color in person. Then, when the deck is all done that they HATE the color. We've seen anything from barn red paints, to light blues, greens that customers thought color would look totally different. This is why we like using Cabot solid stain. Cabot's water based solid samples are sold in pints ($7 a pint) which, even if you purchase 10 pints (that's $70) plus a few pieces of scrap wood will be so worth it when you paint your deck with a color you actually have seen, not a paint chip, and liked. It is worth it to see the color in person, please remember that. Colors hardly ever translate well from a chip in a book to real life. When you make samples on scrap wood pieces you can move these pieces around your deck, see them under different light conditions, different times of the day. This ensures you will see the color from different angles, different lighting.
Tips To Ensure Your Deck Paint's Longevity (prevent peeling).
When painting your deck you are accept the responsibilities associated with painting it. There are ways to ensure your deck paint lasts as long as possible. We have found that these practices help greatly in ensuring your deck does not peel, blister. This is all taking into account that your deck was 1)painted with the correct type of deck paint, and 2)deck paint was applied following best practices.
8 Tips To Maximize Your Deck Paint Life
Do not leave area rugs, jute rugs out on deck
Clean gutters at least once a year to avoid splas-hover. Splash-over from gutters creates excessive wood moisture, and heightens the possibility of moisture getting under deck paint causing peeling, wood rot.
Clean gap between deck floor boards. This is an important maintenance routine to ensure deck longevity, deck paint longevity. This is especially important to prevent deck joist rot, deck floor board rot.
Clean all painted deck surfaces twice a year: Once after pollen season, once after fall
Don't keep bird feed on deck. Bird feed will collect between deck boards, will invite squirrels and bird droppings will attack your deck paint.
Ensure your deck stays as dry as possible. This mean no watering deck constantly, no bathing dogs on decks, no excessive watering of plants on deck.
Elevate planters: do not place your planter directly on deck floor. Floor will remain wet, and will cause paint to peel, and deck floor boards to rot.
Don't let your pets do their business on deck. Ammonia will attack deck paint.
Thinking about hiring a professional to paint your deck? Want to DIY and not sure where to start? We encourage prospective customer to contact us when debating whether or not to paint their deck, we welcome any questions you may have (whether you hire us or not, whether you want to DIY or hire out). We are just a phone call or click away. You can call or text us at 404.992.4870 or can be reached by clicking on one of the buttons below.
A Few Images Of Our Deck Painting Projects Near You:
We Service The Following Cities:
Alpharetta
Avondale Estates
Brookhaven
Chamblee
Clarkston
Decatur
Doraville
Druid Hills
Dunwoody
Kirkwood
Norcross
North Brookhaven
North Decatur
North Druid Hills
Peachtree Corners
Roswell
Sandy Springs
Scottdale
Smoke Rise
Tucker