We have since 1998 specialized in all levels of deck care. We know there are many contractors that offer a wider range of services than we do, but are confident that once our prospective customers do their due diligence they will recognize the advantages of hiring an exterior deck care specialist over a jack-of-all-trades company.
Below is a detailed listing of our most common deck services.
Our Deck Restoration Services: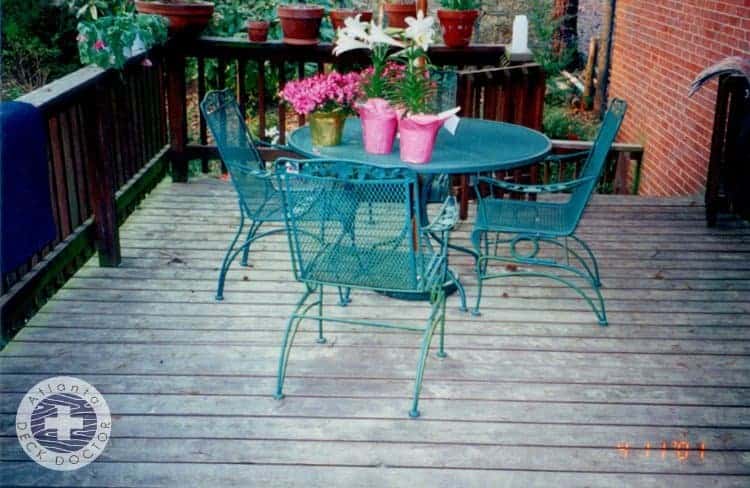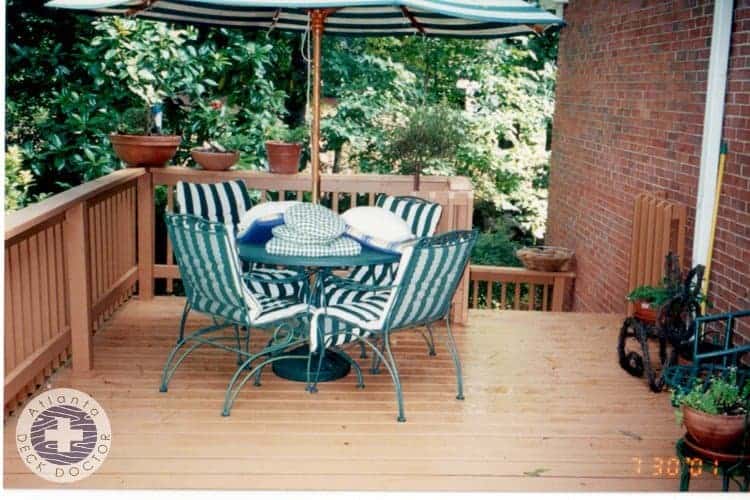 Atlanta is a magical place a city built in a forest, rolling hills, beautiful landscapes it is a place where decks blur lines between terrain and houses. Decks not only help bridge the transition between backyards and indoor living spaces, they have become a living space in their own right. Decks, unlike indoor living spaces are exposed to the blistering Atlanta summers, and frigid winters. Due to these climate extremes, decks take a real beating. Add large amounts of rainfall, snow to the mix, and you've got the perfect conditions for wood deck rot! Since 1998 when we started our deck restoration vocation we've encountered a fair bit of homeowners who have told us they did not know there were deck specialists like ourselves. This cycle repeats itself as younger generations graduate from college, get good paying jobs, and purchase their first home they also don't know about us deck specialists and are at the mercy of handymen, painters, landscapers who 'do decks to stay busy' without educating themselves in the intricacies of deck cleaning, staining, sealing, refinishing. This was the main reason why we started our path with deck restoration back in 1998.
What is deck restoration?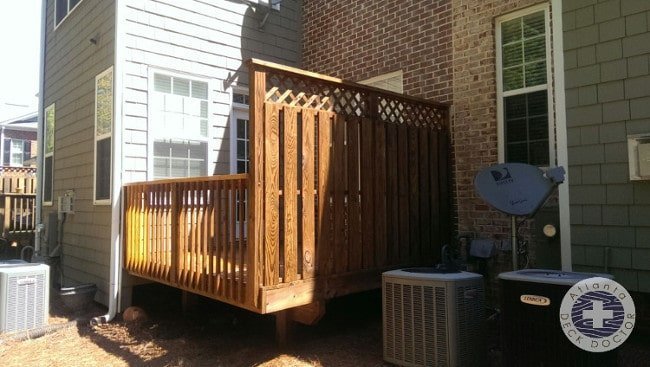 Deck restoration to us involves taking a deck (whether paint that has worn down, stained and severely faded, or plain weathered wood that has turned grey) rejuvenating, refinishing, and refurbishing it into a beautiful, outdoor deck living space completely protected from the elements. A space that will remain looking good year, after year (with proper maintenance). We aim at making deck maintenance, whether restoring, finishing, refinishing be a simple line-item you will check off your to-do list.
How is a deck restored?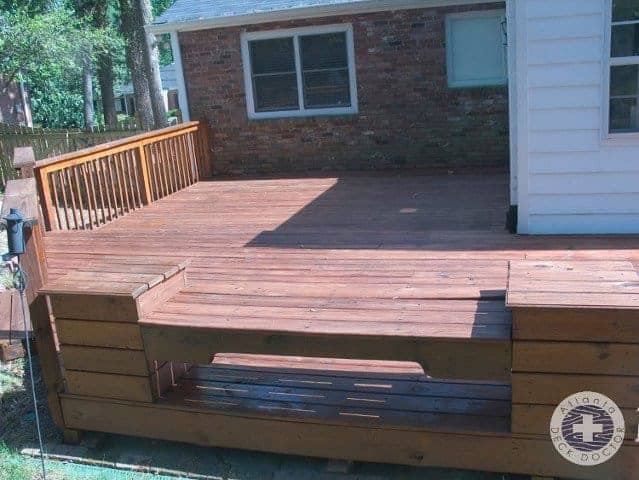 A properly executed deck restoration relies on excellent communication with our clients, gathering details about previous products used, age of deck, sun exposure, deck orientation, species of wood, adjacent, and surrounding tree canopy. With the proper information gathered we can draw up a plan of action that will provide reliable results. There isn't a deck restoration formula one size fits all approach. we enact our plan of action relying on many years of on the field wood deck restoration experience, at times making judgment calls as we encounter them. Restoring a wood deck is a combination of great communication from beginning to end, immaculate wood preparation, artisan like application of the deck protectant whether paint, or stain. Our goal is to refurbish your deck, beautifying it making it not only great to look at, but livable, comfortable, safe, and well protected from the elements.
We offer our deck restoration services for those decks that need special TLC, sometimes these decks seem like they're a lost cause. Our customers cannot believe the difference we make with a deck they thought was not salvageable – We call it DECK C.P.R (Clean Prep Refinish).
Deck Refinishing - Cleaning, Staining, Sealing
Before we delve into proper deck restoration steps –  quick FAQ gathered from customer's questions over the years.
Deck Cleaning, Staining, Sealing FAQ
Our Deck Cleaning Process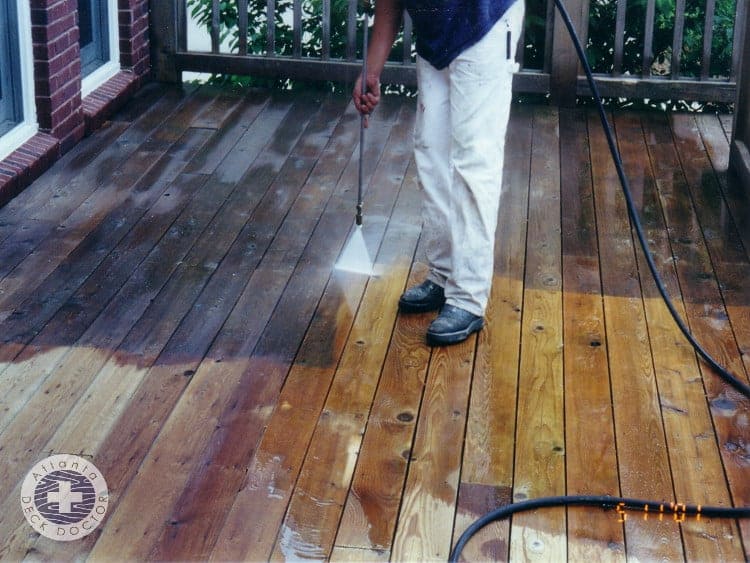 No two decks are alike, for this reason we always perform a thorough walk-through of every deck and inspect the condition of all deck surfaces. Depending on condition of deck we use the appropriate cleaning detergents.
A side-note: All our deck cleaning, stripping, brightening detergents are sourced from professional deck restoration detergent suppliers. We never use products from big box stores, we use products that are tailor formulated by professional deck restoration suppliers for specific species of wood, specific condition of woods, and specific coatings on wood surfaces. With
out the use of these costly, yet necessary products our deck cleaning, stripping, neutralizing results would be ordinary instead of extraordinary.
Depending on our customer's deck condition (sun damage, type of existing deck coating (or lack of) we proceed to use a specific deck cleaner,stripper,brightener that will be effective at softening up dirt, grime, sun damage, and old coatings from all deck surfaces. Once our detergent bath has spent a specific time on the wood surface we gently pressure wash all the grime, mold, mildew, and old stains and sealers
without much effort. We never use high pressure on wood decks – we allow the detergents to do the heavy lifting. Using low pressure will not raise the wood grain (if done properly), it won't mark up and leave pressure washing lap marks on the wood (many novices get this VERY wrong), and won't drive water into places where it shouldn't be driven into (under doors, into electrical outlets, etc). Using low pressure, and allowing the deck cleaning, and restoration detergents to do the work is vital in providing professional deck cleaning results.
We follow up every deck cleaning with a thorough neutralizing and brightening. This is a crucial step that cannot be missed. Again, this is where we separate ourselves from the competition.
Neutralizing, brightening of wood decks achieves three important things –
It will rejuvenate the appearance of wood surfaces – especially wood that has darkened from using caustic strippers, and alkaline wood cleaners.
It will neutralize the effects of caustic, and alkaline cleaning agents , balance the PH level of all wood surfaces (if the deck isn't neutralized, the new paint, stain, sealer will be attacked by the remnants of the previous cleaner- leading to poor paint, stain performance and shortened life)
A wood brightener/neutralizer open the pores of the wood thereby aiding stain and sealer absorption, allowing the wood to soak up the stain, and take the stain color more evenly (richer look).
Using a wood brightener is, again a crucial step that cannot be missed. Wood brightening will also accentuate the wood grain- without it wood will look murky, and not as lively, vibrant.
Using proper wood preparation practices, using superior wood cleaning detergents, our professional wood care equipment, superior stains, sealers, paints, and and decades of expertise – restoring a deck, cleaning, staining, and sealing is a breeze!
For further examples and a deeper dive regarding our deck cleaning services please visit our Atlanta Deck Cleaning Page
Our Deck Staining And Sealing Process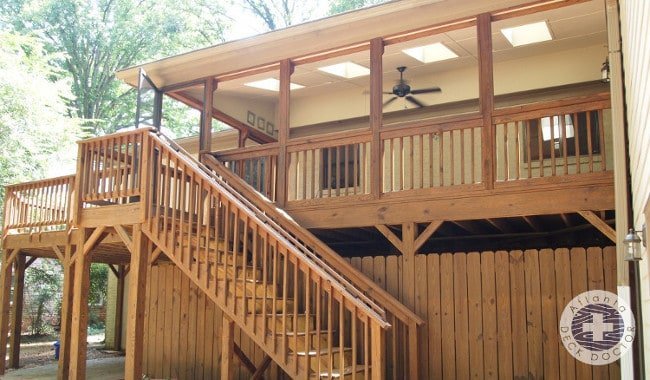 After cleaning, brightening of deck surfaces, and thorough drying (after several days) we can move forward with the deck stain, seal process.
We strongly recommend a quality oil based stain and sealer such as TWP, or Cabot, but if you have a deck stain that you'd prefer, and is of high quality (like Armstrong-Clark, Defy, Rymar, Penofin) we will gladly finish your deck with any quality deck stain and seal product.
When applying a stain & seal it is vital to ensure even application. Uneven application leads not only to blotchy appearance, but also uneven waterproofing, and short deck seal life-span. This step is crucial in protecting a deck, especially flat walking areas. Once stain and seal has been evenly applied to all deck surfaces, we inspect the entire deck to make sure there are no puddles, excessive stain, we wipe everything down working with stain pads, stain brushes, and rags ensuring the stain is applied as evenly as possible. Once we've wiped the entire deck down with stain pads the job is complete.
You will need to wait about 2 to 3 days at least to return furniture back, etc.
Deck Cleaning And Painting
When applying a solid stain to a deck surface (we will refer to it as painting) all preparation steps are vital for a long lasting finish.
We start off by pressure cleaning all deck surfaces, making sure to gently remove all mildew, mold, pollen, algae, moss from every inch of the deck's surface. Same as our deck staining and sealing process we brighten all raw wood with our wood brighteners. Wood brighteners will open wood pores and allow the first coat of a solid deck stain to penetrate and bond to new wood surfaces.
Once dry (if the deck was painted before) we sand all flat surfaces including handrails, stair steps (if any) making sure to etch all flat areas to ensure extreme bond by new paint, we then lightly rinse off all sanded areas to ensure all sand dust is removed. We can also use rags with quick drying solvents for same-day painting. If the deck has never been stained before this step is not necessary, and can skip to the next step.
Once deck has been prepped, allowed to fully-dry, we can start with the deck painting process: we apply two coats of deck paint with 4 hours at least between coats. Some paints like porch and floor enamel require 24 hours between coats, and others differ, as always we read product label instructions for all jobs.
When painting decks, selection of correct, quality deck paint makes all the difference in a long-lasting finish. Using deck paint on decks with under-deck systems is not recommended, as many of these decking systems are built incorrectly, have proper runoff, and will have excessive moisture permeating through the deck floor boards leading to product failure (peeling, blistering). Same goes for decks that are very low to the ground. Painting a deck is an irreversible process which one should consider carefully before diving in and painting. We endorse, and recommend solid-body deck stains from Cabot, Benjamin-Moore, especially the Benjamin-Moore porch and patio. It is an excellent product which we recommend for covered porch floors, screened porch floors without reservations.
When deck cleaning and painting best practices are observed, a deck painting project will yield spectacular results every time. Using our deck painting best practices method will not only make your deck look great, but will seal, protect your deck for many years to come. We have, since 1998 painted many a deck in the Atlanta area:  You could say this isn't our first rodeo in the deck painting business.
Deck Painting Atlanta, Ga Customer Review
Note on staining or painting new decks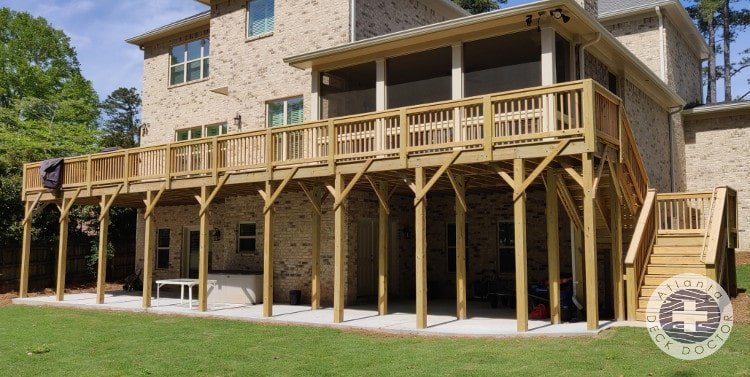 Pressure treated pine decks need at least 3 months to dry. Wood, especially from big box stores contains high moisture content: This high moisture content will not allow oil based stains and sealers to penetrate new wood surfaces as intended by the stain's manufacturer (oil and water don't mix).
It will also not allow a water based deck stain's bonding agents to penetrate as well. Staining, painting a new deck runs the risk of having mildew surface as moisture is trapped by the stain if the wood has a high moisture content. So, if your deck is new, you should wait at least 3 months before attempting staining, sealing, or painting. New pressure treated pine also has mill glaze on all of its surfaces. Mill glaze is a waxy film that is caused by the heat generated at the sawmill (high heat combined with raised grain, moisture content in wood, and extractives in wood) . Mill glaze in new pressure treated pine, and cedar will not allow proper penetration of stains and sealers. Although mill glaze can be chemically removed, or mechanically removed (by sanding) it does not remedy the high-moisture content. Cedar decks are fine to stain right away as long as mill glaze is removed first. KDAT decks are fine to stain right away (we encourage staining, and sealing KDAT as soon as possible to avoid moisture absorption and swelling, cracking.). NOTE: there are water-based stains in the market that allow moisture to permeate through the coating, there are water based stains that can be applied to wet wood (after pressure washing). We do not recommend these stains as they form a film on the wood's surfaces and will have a high probability of blistering, peeling. These may be fine for covered areas, but not for areas with high sun exposure, or exposure to inclement weather.
Deck Restoration Checklist:
Best practices for professional deck restoration results are as follows:
Thorough walk-through of deck with home-owner (if available for walk-through) evaluate all deck surfaces, conditions including sun exposure, surrounding tree canopy, existing coating. Writing down a plan of action.
Replacing rotted wood, if any with kiln-dried ready to stain, seal, paint wood.
Cleaning all deck surfaces with professional grade deck cleaners, strippers. Using low pressure ensuring no damage to delicate wood deck surfaces.
Thorough brightening, neutralizing of all bare wood
Checking for loose nails, tapping in loose nails, using screws.
Sanding of deck (optional) sanding floors, areas with splinters such as handrails,stair steps, benches, etc.
Application of quality deck stains, and sealers
Sanding previously painted deck surfaces.
Applying two coats of quality deck paint allowing manufacturer's specified time between coats.
Using quality stains, and sealers – TWP, Cabot, Armstrong-Clark, Benjamin-Moore for long-lasting results.
Walk-through of deck with home-owner ensuring complete satisfaction.
Since 1998 we have religiously followed our best practices checklist and it hasn't failed us.
Wheter you are planning, budgeting, or just have general deck restoration questions we would love to hear from you – we can be reached day, night, evenings, weekends to answer any and all calls you may have – you can reach us by phone, or text at 404.992.4870, or by clicking on the button below. Thank you,
Some Of our Many Deck Refinishing Cleaning, Staining, Sealing, Painting Projects Near You
Here are but a few of the many deck restoration projects we complete on a daily basis, some in your neighborhoods, and cities. The amazing transformations we have delivered to our many Atlanta customers over the years can be seen below. Please browse through a few of our project images, to see a more thorough representation of our quality deck refinishing services please visit our deck refinishing portfolio section.
Greater Atlanta Cities We Service:
We service many Metro Atlanta cities, and neighborhoods, a brief listing of the many nearby cities we serve:
Buckhead, GA
Sandy Springs, GA
Druid Hills, GA
Virginia Highlands