Light Carpentry Repair Services
About Our Carpentry Services
Decks and fences are exposed to the elements 24 hours a day 365 days a year. Many times one inherits a deck or fence via purchasing a new home that is in need of some serious TLC.
Whichever  circumstance you find yourself in, rest assured that our team of skilled deck and fence carpentry experts can check off all your to-do list items in a jiffy. Our specialty is buttoning up decks and fences – A brief listing of our services:
Rotted wood replacement – Whether your deck's floor, stair steps, handrails, are showing signs of rot – our team of in house carpenters can replace all types of wood rot. We can also replace fence panels that are rotting,
Deck and fence post cap installation – The most economical way to preserve, and protect the integrity of your deck rail posts, as well as your fence posts is to install post caps. They take the brunt of the elements. If they ever rot, it is an easy replacement – much more economical than replacing a deck or fence post. This is one smart way to ensure your deck and fence last a long time.
 Deck anti slip protection – We can install grip strips (plastic, or aluminum) on deck stairs, deck ramps ensuring sure-footing in all types of weather, seasons.
Why Choose Atlanta Deck Doctor?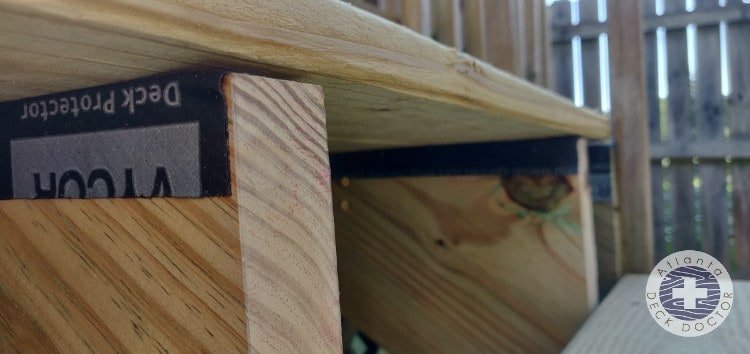 We take steps many don't such as – sealing all wood cut ends prior to installation with a fungicidal sealer (prevents fungal growth/wood rot) , pre-drilling holes, using mastic tape for joists as well as stringers to prevent rot. We perform repairs to the highest standards in the industry. We have very high standards when it comes to deck, and fence  repairs.
We also never use box store lumber – all our lumber is ultra premium lumber sourced from lumber yards such as Cofer Bros, Lummus, Randall Bros.,  Carolina Lumber. We can source KDAT Lumber, MASTERDECK KDAT decking as well. 
We take great pride in the deck repairs we perform and stand behind our work!
Contact Atlanta Deck Doctor For Your Next Carpentry Repair Project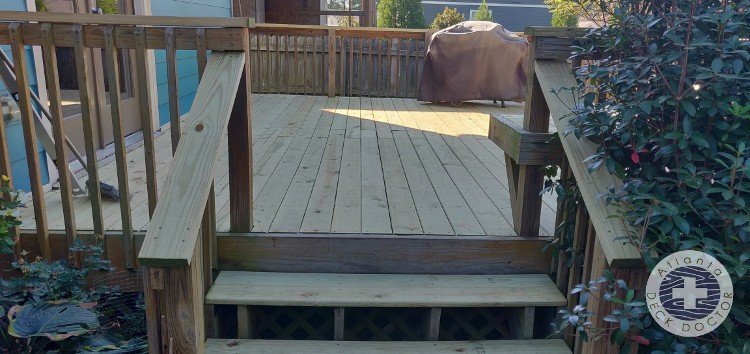 We would love to opportunity to help you tick off all the exterior deck, fence, and outdoor wood structure to-do items you've had in mind doing. We offer free estimates in writing with zero obligation. We can meet you to go over the specifics at your convenience, and can get you on our schedule quickly. Our turnaround times are pretty fast as well – so give us a shout and see why we're so highly rated by neighbors, co-workers and friends alike throughlout Atlanta, GA. We can be reached by phone or text at 404.992.4870, or by clicking the button below. Thank you,