Decks, Fences need special care –  We know homeowners are not aware that professional wood re-finishers like ourselves exist, and unfortunately they're at the mercy of less than competent contractors to finish their decks and fences. We encounter improperly prepared and improperly finished decks and fences on a daily basis – because of this, we see ourselves as problem job solvers- problem jobs are those where a previous contractor didn't clean a deck, or fence properly, applied the wrong stain, over applied under applied, or a combination of all.
100 Percent Customer Satisfaction Guaranteed!
Professional Wood Restoration, Refinishing Services
Our Professional wood restoration services are many – first and foremost we believe there needs to be a sound foundation – that foundation for us is knowledge, judgement, skill, and communication. We execute on a daily basis these skills to smoothly transform our customer's decks and fences from unsightly to beautiful outdoor living spaces that they are happy to invite friends and family to over again!
Our exterior wood restoration services are many – a quick rundown of our services:
Deck And Fence Repairs – Whether you need to replace rotted wood, or fence panels we can fix all your light carpentry needs.
Deck  Cleaning Services – We gently clean decks removing years of dirt, grime, mold, fungus, and lichen revealing the beautiful wood grain beneath.
Deck Staining & sealing – We seal decks the right way with professional grade stains and sealers- We only use the highest quality products from Cabot TWP
Fence painting– We stain fences with superior Cabot solid deck stains.
Deck restoration
Deck Refinishing
Deck Restore
Fence Cleaning
Fence Staining & sealing
You will find we are not only competent, are recommended by your Norcross friends and neighbors on Nextdoor, Google, Kudzu, and Houzz, but our prices cannot be beat when considering what we do apples for apples. We'll go as far as say that our competition doesn't have the experience, know-how, skill, and access to the equipment, manpower, and materials we do. We have cared for wood decks, fences, outdoor structures, and exotic Brazilian woods since 1998. We are Norcross, GA's Wood Care Professionals.
Contact A Wood Refinishing Pro: Contact Atlanta Deck Doctor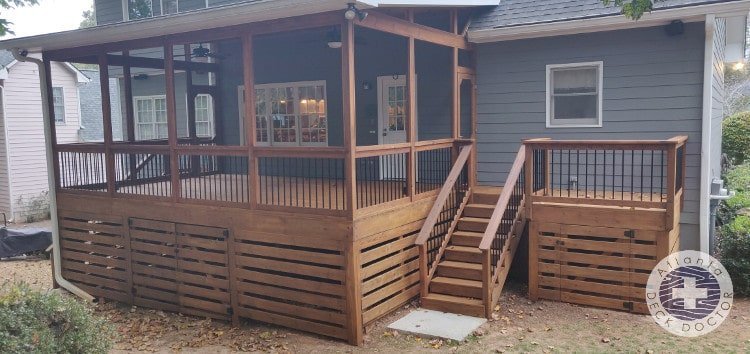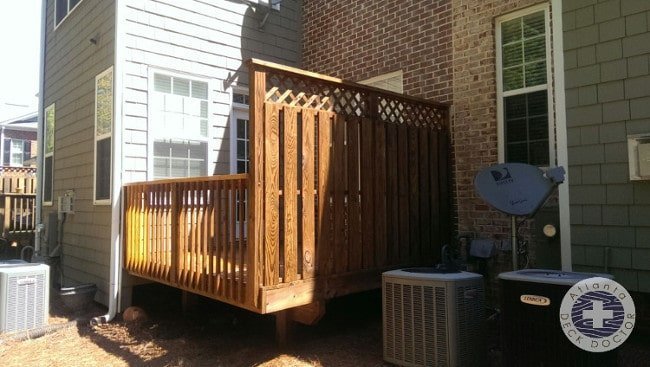 We know life is busy, we also know how projects, whether small, or large can pile up on you. For this reason we've made it easy to be in contact – Wether by phone, text, email you can reach us anytime, a reply is only minutes away. We take our profession seriously, we answer all calls, all texts, answer all questions, and work relentlessly to not only acquire, but retain customers who rave about our services to friends, family, and co-workers.
Click the button below to fill out our estimate request form, or call, text us at 404.992.4870.
What Separates Us From The Competition?
Once our customers do their homework they'll realize the benefits of using a wood restoration professional over painting companies, handymen. A few of the benfeits of using Atlanta Deck Doctor for your next Norcross wood restoration project:
Wood care specialty has its benefits – hiring an exterior wood care specialist like Atlanta Deck Doctor pays off in the long-run. Our wood care program takes into account future maintenenace thereby saving you money in the long-run.
Over 22 years experience in the wood restoration profession – We have cleaned, stained, and sealed many an exterior wood deck, fence, and outdoor structure in the Norcross, GA area.
Color consulting at no extra charge- We can help you select a color for your deck that will work with your home's color scheme, and outdoor areas, landscaping – at no extra charge.
Up front scheduling – We will never promise what we can't deliver – we communicate at all stages of your wood restoration project so you won't wonder where we are. We know you have plenty on your plate than to have to worry about what you're paying us to do.
All in-house staff– all of our staff is comprised of in-house employees. We never use subcontractors.
Available 24-7 – we are available 24/7 even on holidays for our customers.
Stellar 5 star reviews on Nextdoor, Kudzu, Houzz, and Google- See why your Norcross friends and neighbors choose Atlanta Deck Doctor for their exterior wood care .
Atlanta Deck Doctor Is a locally owned, and operated wood deck and fence restoration, and refinishing company that services the Norcross, Ga area including surrounding cities like Berkeley Lake, Duluth, Peachtree Corners, Suwanee, Lawrenceville, and Lilburn