Decatur GA Deck & Fence Refinishing
What makes Atlanta Deck Doctor Decatur Georgia's highest rated deck, fence restoration, and refinishing company?
Accomplishing professional deck, fence restoration results relies on a foundation of great communication with our customers. Tapping into our vast knowledge of the wood care field, executing a time-proven plan of action tailor made to meet all our customer's needs and providing consistently amazing results. Whether you have a new fence that needs protection from the unforgiving Decatur, GA elements, or you just bought a house with a deck that is very weathered: Our team of professional wood refurbishing and refinishing craftsmen have the know-how, manpower to get the job done: Always on time and on, or below budget.
We take great pride in providing unmatched communication, unmatched responsiveness, and unmatched quality of materials, equipment, craftsmanship,  wood protection.
Decatur Deck Refinishing Customer Review
Deck Painting And Staining Project Decatur, Georgia: First Time Customer Review
Decatur Georgia's TOP Deck Refinishing & Restoration Professionals.
About our Deck - Fence Refinishing Services
What is wood restoration? Wood restoration involves taking a weathered wood structure: cleaning, reviving, rejuvenating, applying a beautiful finish that will protect it, and be a breeze to maintain long-term. Once finished our wood deck, fence restoration projects will be cost effective to maintain for many years to come.
Our Wood restoration services include:
Deck Staining
Deck Sealing
Deck Painting
Fence Cleaning
Fence Sealing
Fence Painting
Porch floor painting (historic homes)
Removing old finishes from decks and fences.
Protecting of exterior home wood surfaces – eg decks, fences, garage doors, pergolas
Maintenance of existing customer wood surfaces
Refinishing and refurbishing Brazilian wood of all kinds – Ipe, Cumaru, Garapa, etc.
Deck restore
General pressure washing
We offer these services in the Decatur, Ga and neighboring areas- So you can rest assured if you live in the Decatur area we definitely service your area.
Before
After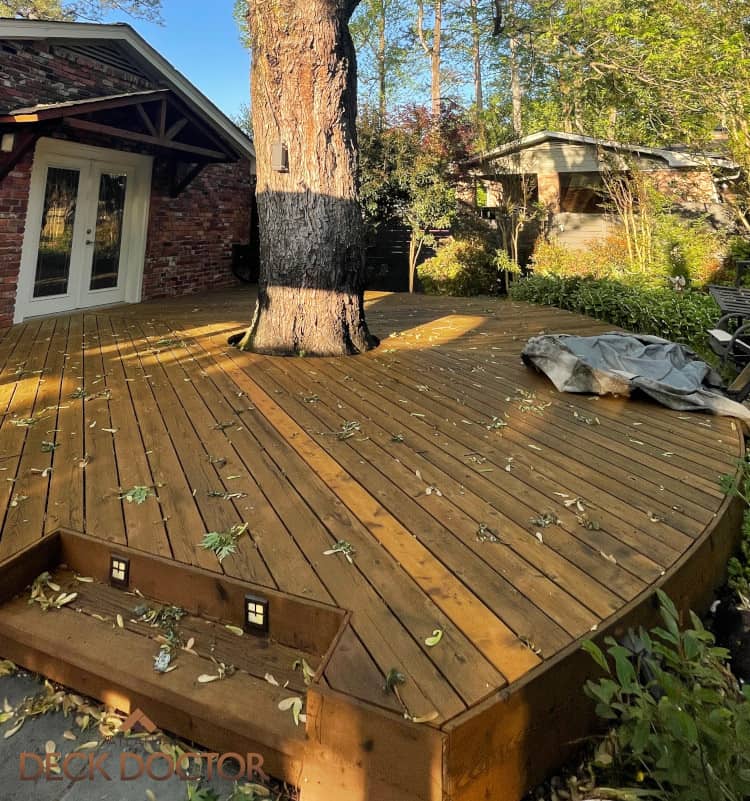 Why Use Atlanta Deck Doctor To Clean, Stain, Seal, Paint Your Decatur, GA Deck Or Fence?
Our Pledge to our Decatur, GA customers is to provide the highest levels of communication, and professional results unmatched by the competition. We believe that our prices are fair considering all the extra steps we take that others won't, or don't know how to perform.
A few of the reasons why we are 5 star rated:
Our Communication is unmatched – We make it a point to reply to our customers questions, concerns whether by phone, text or email:  day, night, weekends, holidays – We are here for them.
We 100% stand behind our work. We strive for 100 percent customer satisfaction.
We use well-known brand products -We never use bleach on wood, we never use TSP on wood – we use pre-mixed professional grade wood restoration products that are safe for the environment, plants, landscaping, and pets.
We use the most reputable wood stain, seal , waterproofing products from  Cabot, TWP, Armstrong-Clark to Messmer's – we Stain And Seal all wood with the best products available in the wood care field.
Our wood care pros have extensive experience. Each of our wood care expert technicians is a specialist in cleaning, sanding, sealing, restoring all species of exterior wood surfaces.
We don't sub-contract our work – We have run into many, many customers who had a nightmare experience with their previous 'fill in the blank company name's  sub-contractor.  Having a blame-game between contractor, and sub-contractor and being caught in the middle  is never good! We never hire subs, ever.
We respect your time.  We know how infuriating it is to have an appointment and have a no-show. We will never leave you waiting for a phone call, appointment, text message, email – ever.
We set clear expectations, clear timing. We communicate with our customers about expectations and timing so there are no surprises.
These are but a few of the reasons why we outshine the competition.

We would love to go over your deck and fence  projects, and give some insights, suggestions . So drop us a line, and click the button below. We have references from neighbors, and friends are 5 star rated on Nextdoor, kudzu, as well as Google, and Houzz.
NKPIANO
Terrific
J.T. helped us repair some broken panels on our deck. The damage was more extensive than initially suspected, but J.T. was ab;e to fix it enough to buy us a few years before we need to replace the deck. He also stained the deck in a beautiful warm stain. The work was done in a very efficient manner and to our complete satisfaction.

Project Details:
Area: Decatur, GA
Posted:08/31/2016
smtipton
Makeover Surgery
The Atlanta Deck Doctor was definitely in, and expert in doing a superb job of bringing our old deck back to new life in less than a week from surgical start to miraculous finish. Steve, Decatur

Project Details:
Area: Decatur, GA
Posted: July 2017
JDinDecatur
Excellent job sealing and staining deck
The service JT and the guys provided was professional and of high quality. JT responded promptly to my initial inquiry and provided a quote at a competitive price. They worked around rainy weather to accomplish the job in a timely manner, and JT kept me updated on when I could expect the work to be done. The finished product looks great. I would not hesitate to recommend them to anyone needing deck sealing and staining.

Project Details:
Area: Decatur, GA
Posted:6/03/2017
carrfamily
Made old deck look like new
Our 25-year-old deck was grungy and depressing-looking. JT's man pressure-washed it on Saturday, and water-sealed it on Monday. Now it looks brand new. Great job. Highly recommended.

Project Details:
Area: Decatur, GA
Posted:7/11/2017
MarcMD
Outstanding Service
Atlanta Deck Doctor's guys were very patient in getting our cleaning and sealer application scheduled. They were very helpful in choosing the best stain to meet our needs. Atlanta Deck Doctor came highly recommended and they did not disappoint us.

Project Details:
Area: Decatur, GA
Posted:12/31/2017
aeyeomans
Incredible Service!
Our deck was in sad shape, and the Atlanta Deck Doctor made it all better. JT is extremely professional. He responded to my many questions about the process quickly and patiently. In addition to cleaning and staining the deck and replacing two bad boards, they also took care of a long-neglected porch swing. That was a last minute request on my part, and they only added the cost of the extra stain to my bill. We are VERY pleased, and when it's time for the deck to be treated again, we will definitely call JT. I highly recommend this company.

Project Details:
Area: Decatur, GA
Posted:12/16/2017
amcwho4
Beautiful oil application
JT and his crew brought our new deck to life! We'd tried to stain it ourselves but a year after, it looked awful. JT diagnosed our issue, made recommendations in our budget, and patiently went back-and-forth with us as we deliberated over stain colors. The deck was thirsty new wood -- about 6 months after the initial application, it started to lose the beading effect. JT immediately sent a crew to do a one-time touch-up to get it in ready for the hard summer. His crew was great, worked quickly and expertly, and didn't need us to be home to finish the job. I'd recommend Atlanta Deck Doctor to friends and family!

Project Details:
Area: Decatur, GA
Posted:6/11/2018
Our Featured Decatur, GA Fence & Deck Refinishing Projects
Reach Out To Decatur Georgia's Wood Restoration & Refinishing Pros Today.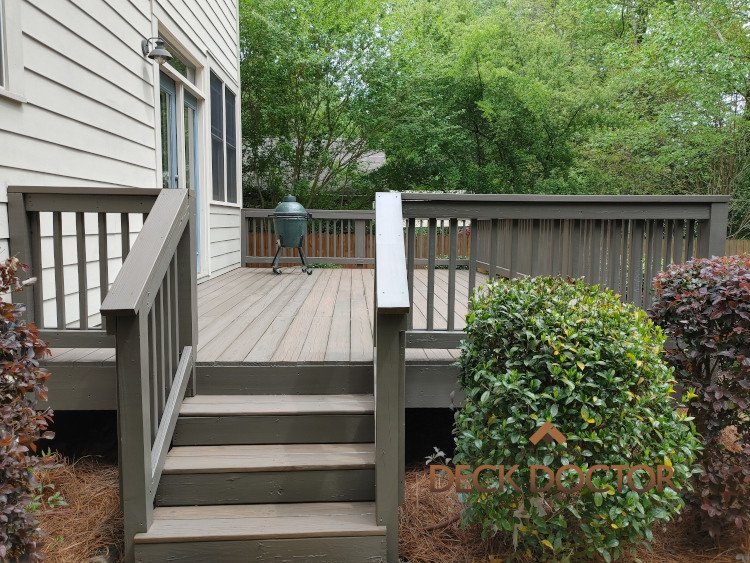 We would love to go over your exterior wood deck & fence restoration & refinishing projects, and give some insights, suggestions – So drop us a line and click the button below. We have references from neighbors, and friends are 5 star rated on nextdoor, kudzu, as well as google, and houzz.
Atlanta Deck Doctor Is a locally-owned & operated deck and fence restoration, refinishing company serving the entire Decatur, Ga area and surrounding cities like Kirkwood, Avondale Estates, Druid Hills, Virginia Highlands and surrounding cities.