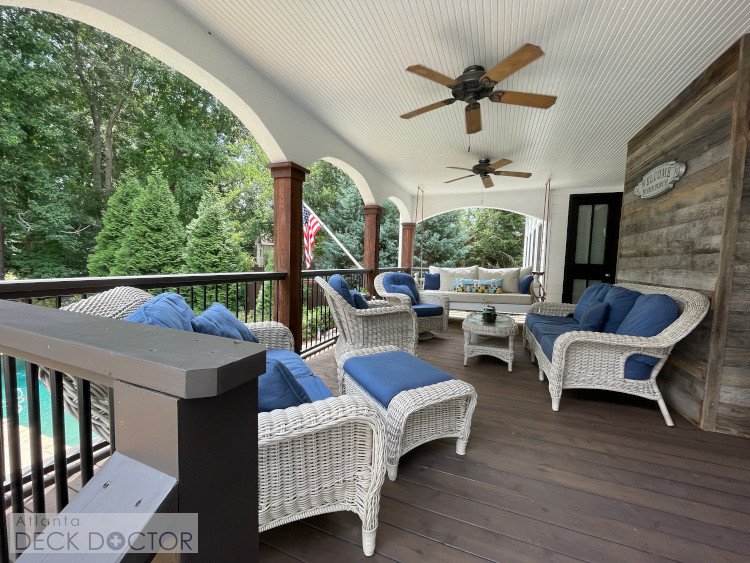 Deck, Fence Stain & Seal Cumming, GA
NOTE: We have zero affiliation with JT decks & porches out of Cumming, GA.

We at Atlanta Deck Doctor Know Deck And Fence Care – We've been doing it since 1998 – It has been our only service since. Specializing in wood care for all these years has given us the ability to form long-lasting relationships with our Cumming, GA customers. Knowing we improve their fences, decks is just the icing on the cake for us. So what is wood care? What does it involve?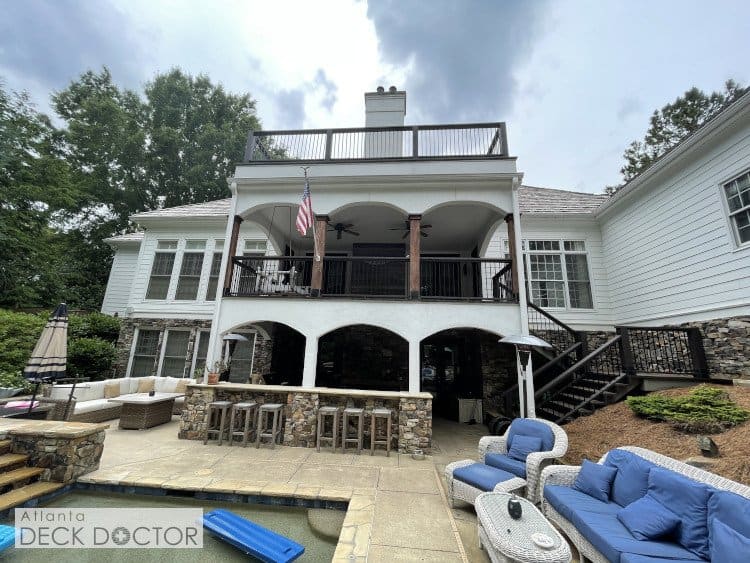 Wood care is a specialty field practiced by a few craftsmen in the southern united states, much fewer in the Metro Atlanta area, and even less in the Cumming, GA area. It is a specialty field which involves restoring, refinishing decks, fences and outdoor wood structures to like new condition. Because of this scarcity of wood care professionals like ourselves many home-owners fall prey to less than competent contractors who never put in the time to learn all the intricacies of wood care- whether appropriate chemicals for a particular wood fence or deck cleaning, or how to properly use a power washer on different wood substrates. We at Atlanta Deck Doctor do one thing, and we do it right: We restore, refinish, refurbish all exterior wood surfaces. Be it decks, fences, pergolas, gazebos, as well as stained siding like cedar shakes, ipe siding, etc. Our wood care services are best in town.
Our Cumming, GA Wood Deck-Fence Restoration & Refinishing Services
A brief lising of our extensive wood care services.
Deck Cleaning, Staining, Sealing, Painting – We clean, stain, seal and paint decks .
Fence Cleaning, Staining, Sealing, Painting – We clean, stain, seal and paint fences of all shapes, sizes- Whether cedar or pressure treated pine.
Ipe Cleaning, Sealing, Refinishing – We are experts in Ipe, Cumaru, Garapa And all exotic Brazilian Hardwood species decks, fences, siding.
House Restoration – We restore cedar shake shingles, siding like Cypress, Cedar, Even Ipe.
Carpentry Services – We offer rotted wood replacement, anti-slip services on stairs, and ramps, post cap installation as well as general deck and fence repairs.
We clean, refinish, refurbish, and restore all exterior wood, no matter the age. We also clean and seal Teak Furniture,
repair carpenter bee damage
, and restore, and refurbish green egg carts.
What Sets Atlanta Deck Doctor Apart From The Competition?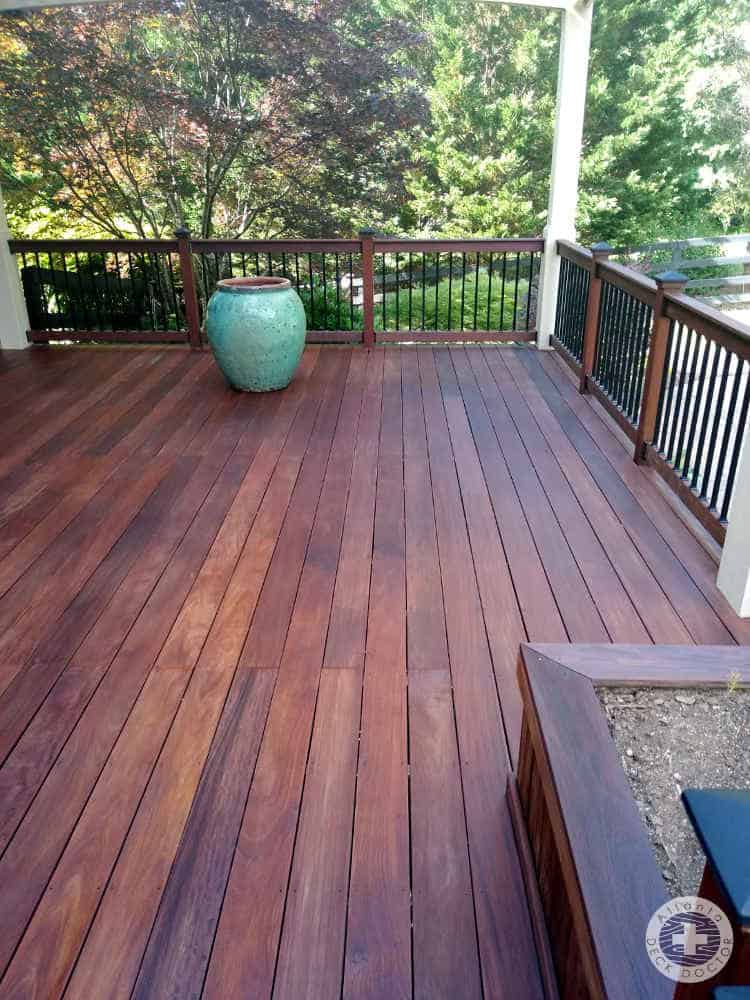 Why should you choose us? That's a fair question – We believe the many wood restoration specific services our customers receive by using us cannot be equaled by the competition.
NO subcontractors – We never use subcontractors.
Name brand Stains, sealers, paints – We never mix our own stains. We not only use name brand stains like Cabot, TWP, Penofin, But we also give our customers paperwork noting what brand, product, and color# their exterior wood was finished with.
Deck and Fence Painting done right – We paint decks, fences the right way – respecting manufacturers specifications. We don't rush jobs to get to the next one – every step is executed as per the stain, paint manufacturer stipulates. This yields a longer stain, and paint life, and a better appearance.
Timeliness, communication – We strive to provide our customers a 100 percent stress free wood restoration experience. We answer all calls, set clear timing, and set clear expectations.
These are but a few of the ways we set ourselves apart from the competition.  We are 5 star rated on Google, Nextdoor, Kudzu, as well as Houzz. See why your Cumming neighbors choose Atlanta Deck Doctor for their deck, fence, and exterior wood refinishing and refurbishing projects.
Contact Atlanta Deck Doctor For Your Next Wood Deck or Fence Project
Exterior wood restoration is not just our job, it is something we love doing – we enjoy submitting a completed deck and fence project to our customers, seeing their jaws drop from the incredible change our craftsmen can accomplish. We would love to help you improve the appearance of all your exterior home wood surfaces.
Contact Cumming's Authority in wood care,contact Atlanta Deck Doctor today.
You can reach us by phonedeck repair cumming ga/text: 404.992.4870 you may submit pictures & description of your project by clicking the 'request a quote' button below (left) , or if you'd prefer to chat with JT,  please click on the start live chat to the right.
Thank you, JT with Atlanta deck doctor.
Atlanta Deck Doctor has been serving Cumming Georgia since 1998 with exceptional wood deck refinishing & restoration services including cleaning, staining, sealing and painting of decks & fences.

Recently Completed Cumming, GA Deck And Fence Staining, Sealing, Painting Projects