Atlanta Deck & Fence Restoration
Cleaning-Staining-Sealing-Painting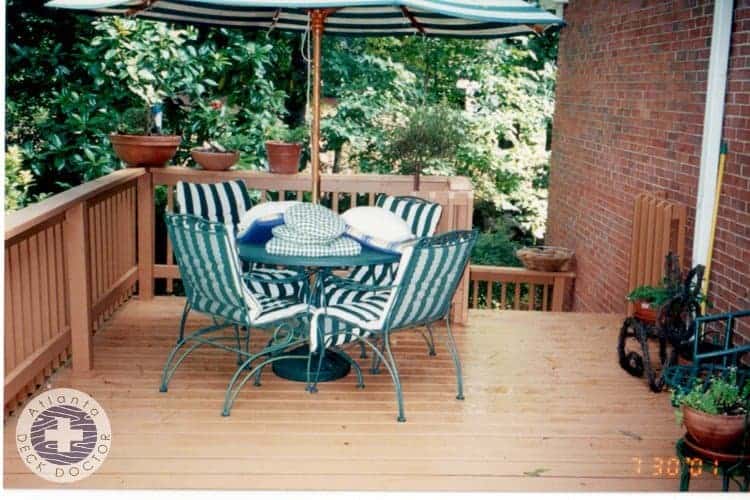 Unlike other contractors in the Atlanta area that try to encompass too many trades at the same time, our philosophy is simple.
We maintain decks, fences and all exterior wood outdoor amenities, and we do it right. Because of this, you can be confident that our deck, and fence restoration services will be of the highest quality.
Our services consist of deck, and fence pressure washing, waterproofing, staining, and general deck restoration/repairs, as well as deck refinishing. Be it that your deck needs to be pressure cleaned, & sealed for the spring, or you would like to stain & waterproof your fence, our team of in-house professionals have the manpower to get the job done. We also offer deck sanding for worry-free, splinter-free decks that you, and your family can enjoy year-round.
We would love the opportunity to meet with you to discuss your needs.
Our Deck, Fence Restoration Services
Deck Cleaning – from  brightening up, cleaning a deck, to complete stripping of old deck stains sealers, and waterproofers.
Deck Staining & Sealing | deck waterproofing – For a long lasting finish we recommend TWP, as well as Cabot products.
Deck painting – We use a wide variety of high quality solid color stains. We paint decks the right way, for a long lasting finish.
Fence Cleaning, Staining, Sealing Services– From power washing fences, to applying quality stains, sealers, and paints.
Fence Painting
Deck treatments – From water based deck stains, to oil based, we can take care of all your deck maintenance, and deck/fence
waterproofing/weatherproofing needs.
We specialize in refinishing pressure treated pine, cedar, redwood, Teak
as well as all Brazilian & Central American Hardwoods such as Ipe, Cumaru, Tigerwood, Massaranduba, and Garapa.
Big Green Egg Cart Cleaning, Staining, Sealing And Refinishing
Teak Furniture Cleaning, Refinishing
Deck Refurbishing
For a full listing of our fence, and deck restoration services please visit our Atlanta Deck Restoration Services page. Most frequently asked Deck, Fence Cleaning Sealing and Staining questions can be easily answered on our FAQ page.

Our Featured Deck And Fence Projects
We are proud of the quality of our exterior wood restoration services- That's why we post 100 percent our own deck and fence project images. We will never use 'Internet Stock Images' to portray to be  something we are not. We use images of deck & fence refinishing projects we've completed, before and after images so our prospective customers see exactly what we're about, and can see the quality work we provide our many Atlanta customers. To view more of our deck and fence restoration, refinishing,  staining, sealing, and painting projects visit our portfolio page.
Customer Reviews & Testimonials
We encourage you to view our customer reviews, and testimonials from our many Atlanta customers. Customer satisfaction is our highest priority!
We were so pleased with Atlanta Deck Doctor! They transformed our unsightly deck falling into disrepair into a beautiful and usable space! The company was responsive and helpful with all of our questions! They did power washing and staining. I can not recommend this company enough—super easy experience, affordable and high quality! We are so impressed with the results.
I contacted Atlanta Deck Doctor through their website for an estimate on refinishing our deck. I heard back from them the same day with a formal estimate and the following afternoon they had started work on our deck. On top of making our deck look a million times better, they were always on time, responsive and professional. We will definitely use them again for future needs with our fence and deck.
This excellent team worked with me to pressure wash and re-stain my deck. They came out and assessed it, wore masks and were very careful about COVID, helped me select colors (they were VERY patient here!!), and then did a phenomenal job with the deck, It looks like new. Price was also great. To do all this, plus pressure wash my porch, they charged me $1050. I found the price extremely competitive in my research. Thanks, Deck Doctor crew! Great work.
Very professional team, brought life back to our pergola that badly needed restoration. Really appreciated the time spent keeping us informed of progress throughout the job.
Roberto M.
18:11 02 Aug 20
This the second time we have used Atlanta Deck Doctor (ADD) to stain and seal a wooden deck, and we are just as happy as the first time with the results. It is always a pleasure to work with JT, who is impeccably professional and responsive to questions and requests, and his crew is thorough, efficient, and does high quality work. You won't regret having ADD do your deck (and other) work.
J.T. Worked with me to do my deck in two stages as we had to wait for some repair work on the large deck. The color recommendation was excellent. The workers were careful of landscape and pool in both pressure washing and staining. I am so pleased with the outcome.
Harriet C.
02:29 30 Jul 20
JT's team was great, professional, and very thorough with their work. My newly pressure-washed deck looks fantastic! Thank you!
Madeline S.
12:00 27 Jul 20
Atlanta Deck Doctor (ADD) delivered on a deck repair and restain after another contractor left me hanging after completing only 20% of the job. ADD helped me spec the job and estimate the project during covid crisis with distance pic-only review. When lumber became available they were able to complete the work in 2 afternoons to get our deck ready for use for the rest of the summer. JT and the team did a great job.
Did a great job refinishing our deck and fence below it. Very responsive and willing to answer all questions.
Responded to my request right away and scheduled a visit and finished the job the very next day. My job was small but they still took time to talk to me and help me out.
We used Atlanta Deck Doctor to stain a newly installed deck this summer. Very happy with the outcome and would recommend them to anyone with a similar project. JT was very helpful in recommending stains, communicating promptly, and came in at a very fair based relative to his competitors. Would use them again for sure!
Once again Atlanta Deck Doctor did a great job cleaning, staining and sealing our deck. We will use them again.
Amazing experience working with J.T. - incredibly responsive, professional and did an excellent job. Highly recommended and a rare find in the business!
Great experience working with Atlanta Deck Doctor. We were working on a time crunch and JT helped to expedite the process without sparing the quality. Thorough communication from start to finish. Very pleased with our deck!
My experience with JT and his team for my deck cleaning and staining has been top notch. From the beginning I felt he was invested in making sure he understood what I wanted and gave me options to achieve my goal. Not only was it educational because JT took the time to explain the process and products, but he also suggested some very nice color options. I would not hesitate to recommend Atlanta Deck Doctor or to use their services again.
A few years ago I had updated my deck, installing hardwood (cumaru) planks. It wasn't treated at that time, and, 3 years later, it grayed, was rough, and had some cupping on the planks. I called a number of places and couldn't find anyone willing to remove the cupping before staining. That's when I found the Deck Doctor. JT took my inquiry, and listened to my request. He asked for a few pictures, and, based on that, he arranged to have a subcontractor come out and completely sand (plane) the deck within a few days. This is exactly what I needed! Now with the deck flat, his employee continued with a cleaning, light pressure wash, and brightening. The job was finished with an application of Messmer's UV protectant, and Amteco TWP (for the pine base). It came out beautifully! We couldn't be more thrilled.JT was in constant communication (text, phone, email) throughout the process, as we needed to schedule based on the weather. When complete, JT came to my home to make sure it was to my satisfaction before payment.Lastly, JT is experienced and really knows wood. If you are a discerning customer (like me), have a unique / challenging situation, or just want quality work from a good contractor, I fully recommend the Deck Doctor!I've attached before and after photos. (both are morning photos after some rain)
We were very happy with the work provided by Atlanta Deck Doctor. For cleaning and staining, their pricing was slightly higher than other companies, but we ultimately decided to go with them because of their attention to detail and customer communication. Everything was explained clearly and all questions were answered quickly. The actual work was very good, and we've been getting lots of compliments on our deck.
Carolina G.
16:04 04 Jul 20
Had my deck stained. Looks great. They were timely and kept everything neat and clean. I feel like they are priced very fair as well. We had several quotes.
amariah B.
19:57 03 Jul 20
JT and his team did an amazing job of turning our neglected deck into the envy of the neighborhood! JT was incredibly responsive and very helpful throughout the process! I highly recommend the Atlanta Deck Doctor!
JT and his crew did a wonderful job sanding and staining our 16 year old screened porch deck, landing and stairs. We couldn't be happier with the results. JT was all about communication and would respond immediately when texted. He was extremely knowledgeable and polite. Several times during the process he made it clear that we would pay nothing until the job was complete and we were 100% satisfied. I would definitely recommend his company to anyone looking to restore their deck.
After reading the numerous positive reviews and visiting the website, we reached out to ADD to resurface and re-stain our deck. JT was immediately responsive both at that time and throughout the process. He proceeded to evaluate and then patiently educate us about the specific needs of our deck and options. JT was also quick to provide either photos of past projects or physical color samples upon request. He and his team did an excellent job with the sanding, brightening and staining and were always both professional and courteous. We're happy with the end result and look forward to using our "new" deck as the summer progresses.Should you be in need of deck restoration, definitely be sure to get in touch with JT at Atlanta Deck Doctor.
Atlanta Deck Doctor did a great job sanding and oiling our Purple Heart Deck. Give them a call!
The deck is 22 years old. Looked Very, very rough. I had two other contractors provide estimates and they wanted to replace all the wood decking boards and steps. But Deck Dr. felt there was NO need to replace the wood and they were right. Deck looks great and was substantially less than the other estimates.The workmanship was 1st class. Very detailed in cleaning and staining every nook and cranny. Also very careful in working around all the plants and flowers.Quick turn around on estimate. Very communicative, providing notice of every step of the work via text & email. Spent the time to provide on-site samples of stain colors. Even spent the extra time to run to Lowes to get a custom color sample my wife requested.Very highly recommended….
We just had our deck reenforced, pressure washed, and stained by the Deck Doctor and had a wonderful experience working. JT and his team were incredibly knowledgeable, thoughtful, and professional. They responded quickly, were patient with all of our questions, and did all the work with care, and at a very reasonable cost. We are so happy with the results and would absolutely work with them again. Highly recommend!
Atlanta Deck Doctor just finished cleaning and re-staining our deck. They did a great job and were professional and communicative throughout the entire process. Definitely recommend them!
We used Atlanta Deck Doctor to have our deck restained after years of wear and tear. JT was great at helping me to understand my options for restaining, the process, brand and color selections. He communicated timely and was there to answer any questions we had. We are so happy with how it turned out and how smooth the process went. Would highly recommend!
I found Atlanta Deck Doctor online and asked for a quote for staining our back deck including staircase and support beams, along with replacement of some boards. JT came by the same day and provided the quote a few hours later. He consulted on best stains to use and process of deep cleaning and pressure washing. The quality of service and work from JT and his team are extraordinary. And unlike many contractors, communication was exceptional.
JT and his team did a great job! They are very responsive and professional.I didn't have the formula for my current stain but JT went out of his way to go to the paint store and have them color match it and even brought me back a couple of extra cans for touch up work.
Contacted Deck Dr about a deck job where I live in the mountains. Although their business does not travel that far from Atlanta to do jobs, the contact person responded to my text and gave me a tip on how to find someone to help. I appreciated the response, and the professional and friendly way this business reached out to assist me with my deck issue. I will recommend this business to friends and family who DO live in the Atlanta area. Thank you!
Mary Ann A.
01:46 09 Jun 20
Very professional. Showed up with a good attitude and answered all questions about color. Very helpful
I highly recommend Atlanta Deck Doctors. They stripped the deck and reapplied a coat. Detail was terrific and JT knows more about this business than anyone I have ever met. They are very responsive. I will use them again whenever we need this done. Jimmy
Jimmy Fleming J.
18:33 03 Jun 20
Just had my deck pressure washed and stained by Atlanta Deck Doctor. They also did some minor deck repairs. I must say that I was impressed with the service from beginning to end. My initial contact was responded to promptly, and their manager came out the very next day to evaluate the job. Good social distancing was maintained at all times. He gave me a fair price and the service was top notch. My deck looks great! I recommend their services without reservation.
We are repeat clients and love the customer service provided by JT as well as the quality of the work.
JT and his crew were great. JT stayed in touch every step of the way! They showed up on time each day and did a fabulous job on my deck staining!
After having our house and deck pressure-washed last summer, we didn't get around to getting our deck stained and sealed. Our deck started turning grey after nearly a year of neglect. Based on a recommendation on Nextdoor and great online reviews, we chose Atlanta Deck Doctor to bring our deck back to its former glory. I liked the fact that they are deck specialists. It was also important to me in this time of pandemic that I can get a quote from them after sending them photos of my deck, instead of having them come out multiple times.JT was very responsive and guided us patiently through the process. He came by (on Sunday afternoon!) to show us the different stains so that we could see how they looked like in real life. His crew were punctual, meticulous, and tidied up after themselves. They pressure-washed, brightened and neutralized, and finally stained and sealed our deck. It looks good now. Highly recommended!
Agatha Loh N.
21:36 01 Jun 20
I was outside of the service area, but JT still took the time to have me send photos to him and provide the professional advice I needed to plan my project out. Thank you again!
Great customer service. JT explained the entire process and was very helpful with making a deck stain selection that would look great and provide the proper protection. Work was done proficiently and I would definitely recommend!
Demetrius P.
14:16 19 May 20
Wish I called JT before I stained my bench. He is very knowledgeable on stains, oils,and how color will react on different woods including Brazilian hardwoods. Grest job cleaning and staining.
JT and Atlanta Deck Doctor were great! We had them clean and stain our fence and it looks great. JT is very responsive and great to work with. He helped is pick a great color and his crew did s great job. Would definitely recommend.
My deck was in bad need of pressure washing and staining. I contracted several potential contractors. Unlike the other contractors that happen to work on decks, the Deck Doctor specializes in this type of work. They offered a very competitive price. On the day of the job, they were on time and did a great job. My deck has never looked better.
I recently hired Atlanta Deck Doctor to come pressure wash and re-stain my deck. In times of social distancing, I was happy to have all conversations over the phone, by sharing photos and dimensions via text in order to get our project started. They were very easy to communicate with and at all times I had a great understanding of what the next steps in the project were. They were even able to recommend products and explain what my choices were in finishes and choices, by providing photos of samples to show comparisons. From initial contact to project finish was just under 10 days. I would highly recommend working with them!
We had our front porch floor refinished and it looks AMAZING. I would highly recommend this company for any deck related work.
We needed our deck cleaned and stained. JT called me right back, answered all my questions and gave recommendations. I had a quote by the end of the day and the work was scheduled that later that week. They showed up on time and were meticulous. Deck looks great. Highly recommend.
We asked the deck doctor to give us a quote for staining our back deck including staircase and support beams. JT came by the same day and provided the quote a few hours later. He consulted on best stains to use and process of deep cleaning and pressure washing. The quality of service and work from JT and his team are extraordinary.
JT from Atlanta Deck Doctor was great to work with! He went out of his way to make sure i had the exact stains and colors I envisioned in my head. The end result was perfect. His team was very professional and quick. I will be using them again in the future. Thank you Atlanta Deck Doctor!
We had a great experience. JT and his team were courteous, communicative, and professional.   They worked hard to ensure we had beautiful results. We had a deck pressure washed and stained. We also had our driveway and patio pressure washed.
They were very responsive to my request for quote and got one back to me within hours. They are competitively priced and got the job done in the same week as my initial contact. I wasn't sure what color stain I wanted to go with and so they brought out samples of various stains and applied it to my deck so I what the final color would look like. Very responsive to all questions and was happy answer anything I threw at them. The crew did an excellent job cleaning and staining my deck. They took their time and were very detail oriented to ensure it was properly cleaned and spot treated as necessary. They taped off all of my metal railings to ensure stain only got on the wood, and it looks fantastic. This was my first time getting a deck professionally stained and it is definitely worth it. I highly recommend Atlanta Deck Doctor.
Excellent service. Atlanta Deck Doctor power washed and stained my deck, also did some light sanding for a very reasonable price. Very responsive and FAST service, even with the COVID-19 related shutdown. They took pictures throughout the process, highlighting difficult areas of the deck and making sure we got what we wanted: a safe, clean, and beautiful deck! Definitely going with Atlanta Deck Doctor for all of my future deck needs!
Bernard F.
13:13 17 Apr 20
We are a North Atlanta, GA based Deck And Fence Restoration company. Our service area is:
Gwinnett County
Dekalb County
North Fulton County
Norcross, Ga
Duluth, GA
Doraville, GA
Chamblee, GA
Suwanee, GA
Decatur, GA
Midtown, GA
Milton, GA
Roswell, GA
Lilburn, GA
Sandy Springs, GA
Dunwoody, GA
Buckhead, GA
Brookhaven, GA
Tucker, GA
Peachtree Corners, GA
Northcrest, GA
Alpharetta, GA
Johns Creek, Ga
Cumming, GA
Sugar Hill, Ga
Below is our Service Area Map – (click for an interactive view (popup window taking you to our google maps page)
For an Itemized listing of our service area, visit our North Atlanta deck maintenance service area page. We are a TWP, Cabot, Messmer's , Penofin, Armstrong-Clark, DEFY certified application contractor.Thank you for visiting, and look forward to taking care of your deck, and fence maintenance needs!
Contact Atlanta Deck Doctor
We take great pride in providing speedy price quotes to all our prospective customers. We reply within minutes days, nights, weekends, and even holidays. We can be reached by calling, or texting us at 404.992.4870, or by clicking the button below.